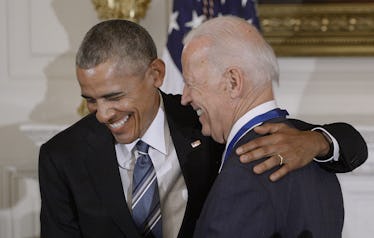 Joe Biden Talked About Those Biden/Obama "Bromance" Memes & We're Dying Of Cute
Pool/Getty Images News/Getty Images
As this has been a trying year, odds are you could use some good news. And I am here to provide. While in Chicago on Dec. 11, former Vice President and total cool dad Joe Biden confirmed that his relationship with former President Barack Obama is as cool as everyone imagines. That's right: all the Barack Obama Joe Biden memes are true.
Biden is in the midst of a book tour promoting his new memoir, Promise Me Dad, which focuses on the 2015 death of his son, Beau, and he stopped in Chicago on Monday, Dec. 11, where he was interviewed by Hamilton's Leslie Odom, Jr. While that would have been enough to make most people squeal with joy, what Biden said about his former partner-in-crime (oh, and former president) Obama will turn you into a puddle.
During the interview, according to the Chicago Tribune, the subject of Biden's relationship with Obama came up, and Biden delivered.
"You know all those memes are basically true," Biden said. My heart.
The former VP called Obama his brother and then said that the almost 20 years he's got on Obama means he "can say things to him that no one else can say." Ribbing the prez. I can dig it.
But their relationship is more than the stuff of buddy-comedy-esque memes. Biden and Obama have a deep and abiding relationship, as evidenced by the Chicago interview. According to Biden, when his son, Beau, became ill, Obama offered to help him financially.
He then told the audience, "Hold the people you love close."
Biden's life has been one marked, in part, by tragedy: his son's 2015 death due to brain cancer is not the first time he has dealt with losing a family member. In 1972, Biden's first wife and his infant daughter were killed when a tractor trailer struck their car. That first tragedy, he told the Chicago audience, "taught him that the grief would have been unbearable if he had lost a loved one he was fighting with."
(I'm not crying, you're crying.)
Anyways, we already knew that Biden is an ice-cream loving goof who sometimes says things that make you cringe — like a well-meaning but slightly out of touch dad — but his confirmation also means he's the mischievous little imp adding fire to Obama's cool demeanor.
I mean, sure, we already kind of knew this:
But the important thing about Biden's admission is that Meme-Biden trying to prank Donald Trump is now canon. It is officially confirmed that he trash-talked the 45th president. Basically.
He is confirmed to be your friend who stands up to bullies, and even says he'll kick some ass, but ultimately makes you roll your eyes with his goofiness.
I mean, his threats are empty, but they sure are entertaining.
He is a goober.
And he loosens Obama right TF up.
An old softie. Confirmed.
He is the wildcard of the group.
He is the Ilana to Obama's Abbi, with a deep and unrequited love for his cool friend.
He is just a mensch.
This isn't the first time Biden and Obama have acknowledged how much people love their friendship.
On Jan. 12, 2017, just before they left office, Obama awarded Biden with the Presidential Medal of Freedom. During his speech, the former president said,
I just wanted to get some folks together to pay tribute to somebody who's not only been by my side for the duration of this amazing journey, but somebody who's devoted his entire professional life to service to this country. The best vice president America has ever had: Mr. Joe Biden...
Then he joked, "This also gives the internet one last chance to talk about our bromance."
Yes, all of the bromance jokes.
Anyways, the real news story here is that, if these memes are real, that means The Onion's Diamond Joe Biden is real, too, which means that somewhere in the world, the former Estonian Ambassador is remembering the time he got to visit the roof of the White House with Diamond Joe.
And you can't tell me that any of this isn't true because Joe Biden himself just confirmed it. Let this be your holiday proof that dreams do come true.