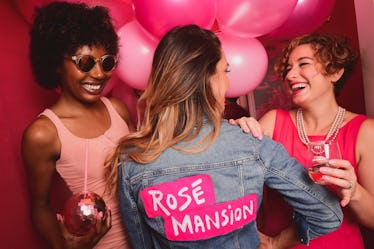 This Rosé Mansion Pop-Up Has A Hot Pink Sand Bar & Giant Chandelier For The 'Gram
What would you consider to be a dream come true? For some of us who are 21 or older, it would be bottomless mimosas at brunch or fruity tequila sunrises on a Saturday night with our girls. For others, it's all about rosé, and maybe even just sipping on some wine after a stressful day at work. There's nothing like some white and red mixed to make you feel like a princess in your own fairy tale. But, your average Monday night with a pink moscato has some serious competition in this rosé mansion pop-up in Manhattan. Seriously, your wildest fantasies and bright pops of color for your feed are right around the corner.
Rosé all day this summer, am I right? The season calls for something pink and picture-perfect. Let's be honest: You know you'll take at least one selfie with your drink over the course of the next few months, even if it's just on Snapchat. Your 'Gram could use a good upgrade, though, and your favorite bottle doesn't deserve to just be hanging in the background.
Your bucket list is full of traveling to places with the perfect palette, and wandering through bustling cities. Packing your passport won't be a must for this mansion, but still be prepared to be transported to a different time and place with rosés from around the world. Your wine and Instagram dreams are about to come true. Now, did somebody see my glass slipper, or maybe just a glass?
What can you expect at the Rosé Mansion?
The Rosé Mansion isn't your average food-themed pop-up in New York City. It's a curated experience so that you and your friends' wildest fairy tales will come to life right in front of your eyes. Imagine following your feet into 14 different rooms, and sampling eight different rosés along the way. You'll be able to learn about the wine you're trying, right down to its history with a few educational exhibits. You wanted to be a wine connoisseur one day, right? Well, this summer is your time to shine.
Although it's not all about being trendy, you'll want to take in every aspect of this aesthetically pleasing palace. You'll snap photos with a life-size swinging chandelier, and the bar will be outfitted with hot pink sand. There's even going to be a bathtub full of roses for those Insta-worthy shots that'll surely turn you into a travel and lifestyle blogger. Do you think it'd be OK if our feet took a quick dip?
You and your girls will hang as long as you like in the Grand Tasting Lounge, and maybe even buy some snacks. It'll have been quite the busy day, but where else would be better to wine down than a mansion?
When and where will all your dreams come true?
Balloons, chandeliers, and the greatest rosé wine bar on the planet seems pretty perfect to me. So, where do we sign up? Let me give you the scoop, because it won't just be open to the general public.
The mansion was founded by Tyler Balliet and Morgan First, who have been in the biz for more than a decade, and will be opening in July in Manhattan. Tickets will go on sale June 5 for $35. However, this deal will only last until June 17 at midnight, when the price will go up to $45 for one general admission entry (anytime after 4:30 p.m. on Monday through Thursday, and anytime Friday through Sunday).
You'll have to pick a date and time for your reservation, and make sure to move around any other happy hours that you may have planned in the next few months. You can't pass something like this up, and snagging your spot sooner rather than later will be essential.
What kind of pictures can you get for the 'Gram?
Are you known as the girl who always drinks rosé in your crew? Well, it's about time that you put that reputation right on your feed. This one-of-a-kind experience will make you want to stop and smell every single rosé, just for social media. You could pose along a background of balloons, or maybe track down that chandelier for a little sparkle. Gathering up your girls for a photo op will be a must, as well. After all, without them, you'd be making pour decisions all by yourself! Whatever photo you get, you know it's bound to be a bit pink, courtesy of a pretty inspired pop-up.