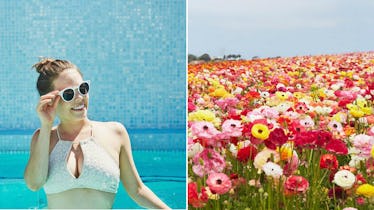 Book A Flight To Carlsbad ASAP, Because It's The Color Palette Your Insta Needs
If you're anything like me, you're absolutely obsessed with Instagram. Sometimes it's a love-hate relationship, but you'll spend a solid amount of time making sure certain filters look good on your feed. You likely follow travel and lifestyle bloggers, and have your favorite YouTubers you keep up with on the weekends. You'd love to one day hop on planes for a living and pose in front of palm trees. But for right now, you want to travel and take pictures that are just as trendy. Visiting Carlsbad, CA will be the colorful trip your Instagram needs, because according to the 2018 Colors of Travel Study, it has the most perfect palette.
Visit Carlsbad teamed up with the Pantone Color Institute and influencer marketing firm HireInfluence, to figure out what colors are currently on the rise in our favorite content. Four hues came out on top in the 2018 Colors of Travel Study, and they're all quite vibrant, if I do say so myself.
The study looked at lifestyle and adventure snaps from leading travel influencers throughout the U.S., and pulled out the perfect palette for our profiles. Some spots are just better because they bring our social media to the next level, and Carlsbad will let you capture the coolest colors in every experience.
Find "Island Paradise" in the beautiful beaches and coastline of Carlsbad.
Leave it to the surf and turf to bring out the best for our social media. For some of us, when we're sitting by the ocean, it always feels like paradise.
This shade, developed by Pantone, is meant to capture that feeling of escape, and combine the beauty of both bright blues and calming greens. Even just seeing this color makes you want to surf, or stick your feet in the sand. Your followers will surely be jealous of your getaway, and maybe even book an oasis retreat for themselves in this California city.
Experience "Salmon" in the romantic sunsets and bright floral fields that are just asking for a photo shoot.
Snuggle up with bae in a sea of florals, or watch a radiant sunset in Carlsbad to see what "Salmon" is all about. The color is meant to match that playful and flirty feeling we get when we're looking at life through a pair of rose-colored glasses. The hue is comprised of pinks paired with just a bit of orange, to create a coral tone that will warm up every picture we post on our feed.
Let's be honest, when we're traveling or things are just going really good, we're more positive and willing to take on adventures. Skipping through fields full of petals makes everything feel possible.
Surround yourself in "Eden" in the lush greenery and hills of a place pretty close to paradise.
The California coastline promises a lot of greenery and nature every time. With an endless amount of national parks and waterfalls, you could escape into (in my personal opinion) the richest parts of this Earth so easily. But, Carlsbad will bring the color of "Eden" right to you in spas and outdoor adventures.
Take a bike ride with a rental from Pedego Carlsbad, or spend the afternoon getting rejuvenated at the Omni La Costa Resort & Spa. This color is meant to be more than just a vibrant shade of forest green. It's supposed to capture the zen of vacationing and finding ourselves in travel.
Capture "Brandied Melon" and other warm tones in the tasty food and drinks of Carlsbad.
One of my favorite parts of traveling is always the food. No matter where you go, there's always a signature dish to try. Carlsbad comes with its own unique cuisine and cocktails, like the ones at Campfire. Sipping on those fruity drinks will be the best way to capture "Brandied Melon" for your feed.
Your followers will love little pops of "Brandied Melon," because it's welcoming and works for just about any season. Especially when it's paired with sparks of "Island Paradise," I would imagine your photo to be unstoppable.
All of the best apps for Instagram can't compete with trips that already come with the perfect palette. Not every destination will necessarily have the right tones, which is why Carlsbad should be at the top of your list. Life is better lived in color, and you don't ever mind going to faraway places for the sake of the 'Gram. So, let's book a flight ASAP.