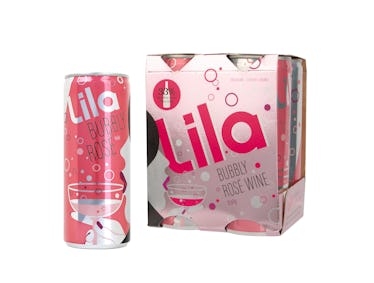 These New Rosé Cans Are Pink, Bubbly, & Perfect For National Rosé Day
With the first unofficial weekend of summer in the books, it is officially rosé season, and you're going to want to celebrate it with the tastiest pink sips you can find. Canned wines are totally having a moment right now, and they're the perfect way to share a bubbly sip with all your besties this summer. Even better, these Lila Bubbly Rosé wine cans have arrived in time for National Rosé Day, so you don't have to worry about missing out on all the rosé fun (if you're 21 years or older).
In a press release from Lila Wines on Wednesday, May 30, the brand announced its newest canned libation, and it is perfect for the summer. The Lila Bubbly Rosé can is a conveniently portable way to enjoy what is described as a dry, sparkling rosé. Plus, sipping the light and refreshing rosé from a can means you won't risk cracking your wine glasses with an overzealous cheers to National Rosé Day, which happens to fall on Saturday, June 9 this year.
Lila Bubbly Rosé comes in a four-pack of wine cans, and each 8.4-ounce can boasts an impressive 12 percent ABV. When you enjoy the Lila Bubbly Rosé from the Veneto region of Italy, you'll get flavor notes of strawberries, passion fruit, and rose petals along with the effervescence and crisp finish you crave in a rosé. Plus, the can is totally Instagram-worthy with its bright pink color and fun design.
You can buy Lila Bubbly Rosé online or find out where you can buy it near you with the Lila Wines locator. This canned rosé will be the perfect complement to all of your summer gatherings this season. Whether you enjoy a can of Lila Bubbly Rosé poolside, beachside, or at your annual summer BBQ, you'll get the quality rosé flavor you crave, thanks to the specially designed internal coating of the aluminum can along with its unique wine lid, per the Lila Wines website.
With a design especially created to ensure the wine tastes the way it's supposed to, you might wonder if Lila has some other wines varieties you can enjoy from this hardworking can. You bet your rosé-loving booty Lila has plenty of wine choices for you this summer. Although, might I suggest you always have a case of Lila Bubbly Rosé on-hand, just in case.
If your taste buds get tuckered out from rosé goodness (is that even a thing?), you can try the Lila Sparkling and the Lila Pinot Grigio. The Lila Sparkling can is an Italian sparkling wine with peach, citrus, orange, and honeysuckle flavors, and Lila Pinot Grigio is a "mellow" white wine with flavors of tart green apple and citrus.
Honestly, all of these Lila Wine varieties sound like the perfect summertime sips. With National Rosé Day coming up, though, you'll probably want to stock up on your favorite pink wine. Luckily, Lila Wines' new Lila Bubbly Rosé isn't the only option for celebrating all things rosé. You can also imbibe in the OG rosé of canned Lila Wines. Lila Rosé is a French rosé wine with flavors of watermelon and strawberries, and it will be the perfect complement to your Bubbly Rosé as you imbibe (responsibly, of course) all summer long.
You won't have to break the bank to catch a rosé buzz this season, either. All four varieties of Lila Wines retail for $12 per four-pack of 8.4-ounce cans.
If you're part of the more-is-more camp when it comes to your rosé tasting on National Rosé Day (or any day, really), you can include some of these beautiful pink rosés to make sure you don't overlook any tasty sips. Just remember to look outside of the bottle this season, and you'll discover the greatness that is canned wine and Lila Bubbly Rosé.