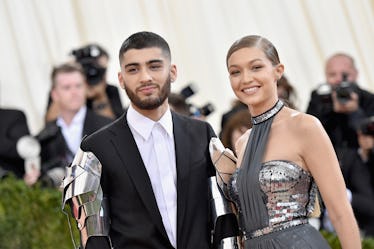 Gigi Hadid Shared The Cutest Selfie Cuddling With Zayn, So They're Still In Love As Ever
Mike Coppola/Getty Images Entertainment/Getty Images
Ariana Grande and Pete Davidson may be dunzo — still not over it, BTW — but at least we still have Gigi Hadid and Zayn Malik to show us that not all love is dead. Not only does the pair seem to be keeping the passion alive, but they are also happily sharing their sweet relationship with their fans on social media. On Sunday, Oct. 21, the 23-year-old model posted the cutest selfie with the 25-year-old "Let Me" singer on Instagram, and lemme just tell you that the photo of Gigi Hadid and Zayn Malik cuddling is goals AF, so mad props, guys!
I mean, the image of the two of them wrapped around each other is all I want in life. Is that too much to ask? There's Hadid, clad in a white button-down top, with her eyes closed and a contented smile on her face. And then there's Malik, snuggling up behind her, and he is shirtless, you guys! Shirtless! So yeah, I'd totally be smiling, too.
"Flyin home to my happy place ❤️," Hadid captioned the image, to which Vannessa Hudgens replied "Cutiesssss," and OMG I am so not jealous of any of this at all.
Except that I totally am. Anyway, check it out:
So amazing, right?
This isn't the first time Hadid has made me jelly with one of her Instagram posts. Remember back in August when she posted a video on her story of herself wearing a gold chain on her neck that had the word "ZAYN" on it in diamonds?
If not, I'mma go ahead and jog your memory real quick:
Didja see it over there on the left? It's a little hard to spot, I know. And it's also backward, so it actually says NYAZ instead of ZAYN. But you know what? Either way, I'm totally digging it. I mean, it's kinda like that necklace Carrie wore in Sex And The City, only so, so much cooler.
Sorry, Bradshaw.
Anyway, the company that designed the piece — Lana Jewelry —also posted a picture of Hadid wearing the necklace on its own Instagram feed, along with the caption: "How cute is @gigihadid in her custom ZAYN #LanaJewelry nameplate? #Zigi#GigiHadid#ZaynMalik."
Answer: Sooooo cute. And if you want to steal the look, you can cop a four-letter nameplate of your own on the Lana Jewelry website for $1,190.00 to $2,040.00, depending on which type of gold you choose (white, black, yellow, or rose). I mean, I could totally go home right now and find that amount just casually hiding under some sofa cushions, couldn't you?
Meanwhile, I'm just really happy that these two are apparently still going strong. Their breakup last March pretty much shook me to my core. But then a month later, Malik started popping up on Hadid's Instagram again, so it looked like all was right with the word. Now it's six whole months later, and the fact that Hadid is broadcasting the fact that Malik is her "happy place" on social media gives me so much faith that these two are in it for the long haul.
Zigi Forever!