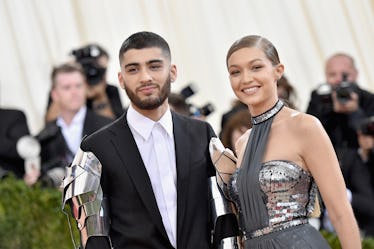 Gigi Hadid Slammed A Troll Who Said Her & Zayn's Relationship Is Fake & It's Epic
Mike Coppola/Getty Images Entertainment/Getty Images
Gigi Hadid and Zayn Malik seem to be back on. The pair broke things off several months ago and made the announcement on their respective social media accounts to break the news to fans, who were heartbroken to hear of the split. They're back together now, much to the joy of their stans, but some people online don't think their relationship is real. This isn't the only time people have speculated that a celebrity relationship is fake, but Gigi Hadid's comment about her and Zayn Malik's relationship being fake clearly was intended to set the record straight about her and her singer boyfriend's lives.
According to E! News, an Instagram user posted a photo of Malik and Hadid together with the caption, "Whatever zigi does for promo. Fact is that, Zayn is not going to follow gigi or ever going [to] post her picture on his Instagram again." If you're shocked to hear that Malik doesn't follow his girlfriend on Insta, well, it's true. Go through the singer's list of people he follows and you won't find the blonde Hadid sister. The Instagram account in question, according to E! News, is a private Zigi fan account that posts "confessions" about Hadid and Malik's relationship sent in by other fans of the couple.
Hadid commented on the post in question, calling out the account for being so nosy. She said,
Seems like u guys tag me in a new post every day … pls stop.. it's just negative, I really have no hard feelings towards you I just know what a beautiful world there is to go out and live in instead of trying to dissect a relationship between two people that you don't even know and that you do not see 99% of.
The comment didn't end there. Hadid continued to put the user in their place by saying, "For someone who is virtually inactive on the app, I don't need his follow- my eyes are tattooed to his chest." Ahhhh! GIRL, GO IN. (This confirms that the tattoo of a pair of eyes strikingly similar to Hadid on Malik's chest are, in fact, her eyes.)
And she didn't even end her comment there. I'm shaking. Hadid continued to go off (justifiably so), saying,
The energy you put into this does not serve you our your life in any way kids…. truly 'beating a dead horse.' You guys can call it promo but I just post about my boyfriend like anyone else, whether I support z or he supports me is out of love and excitement for one another. There's nothing to figure out all the time… give it a break. This is my last comment on this matter but I hope u know it's not coming from a bad place. Just would love for you to find something else that inspires you in life…. x.
Fans took a screenshot of the comment because they knew we'd need dem #receipts. They especially can't get over the line about Malik's tattoo.
SOOOO yeah, Gigi Hadid and Zayn Malik seem to be very much back together.
Malik tweeted,
Gigi and I had an incredibly meaningful, loving and fun relationship and I have a huge amount of respect and adoration for Gigi as a woman and a friend. She's such an incredible soul. I'm grateful to all of our fans for respecting this difficult decision and our privacy at this time, we wish this news could have come from us first. We love you all. xZ
Hadid tweeted,
Breakup statements often seem impersonal because there is really no way to put into words what two people experience together over a few years .. not only in the relationship, but in life in general. I'm forever grateful for the love, time, and life lessons that Z and I shared. I want nothing but the best for him and will continue to support him as a friend that I have immense respect and love for. As for the future, whatever's meant to be will always be. xG
They reportedly got back together not long after they broke up. A source told E! News that after a lot of alone time spent at Malik's farm in Pennsylvania (um, what? He has a farm? OK...) helped them work on their relationship a lot. "Gigi and Zayn are in a much better place since splitting," the source said. "They needed the space apart for a bit and are now are giving things a second chance. They are very happy together and everyone around them can see it."
They continued,
Gigi and Zayn have been spending a lot of time on Zayn's farm in Pennsylvania alongside Yolanda's. Zayn loves being in the rural area because he can clear his head. He has been through a lot and they both agreed being in Pennsylvania is the best way to find peace and happiness. Yolanda adores Zayn and is happy that the two could work things out.
Raise your hand if it blows your mind that Zayn Malik owns a damn farm.
SAME.