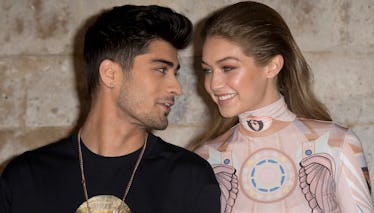 People Think Zayn Malik Got A Tattoo Honoring Gigi Hadid Based Off Of This Video
Oops, he did it again. Remember when Zayn Malik was engaged to Little Mix's Perrie Edwards and he got a tattoo of her face on his arm? That was hella awkward when they broke up and he started dating Gigi Hadid. He has since had the tattoo covered with another one, but Twitter thinks he hasn't learned from his "mistakes." People think Zayn Malik's new tattoo could be of Gigi Hadid's eyes. Fans noticed the new tat on Malik's chest when Hadid posted a Boomerang of him the day after his birthday, Friday, Jan. 12.
In the video, Malik's shirt is open and you can see several intricate tattoos on his chest. Part of that collection now features a set of striking eyes, and fans think it may be a tattoo of Hadid's also striking eyes. While there's no concrete confirmation, it's hard to deny the resemblance. It's also not clear when Malik got the tattoo.
But those beautiful eyes look a hell of a lot like Gigi Hadid's.
Here's a closeup of Hadid's eyes for comparison.
That tattoo looks a lottttttttt like Hadid, guys. Some fans think it's an adorable tribute to his girlfriend.
Others think this may be similar to when Zayn was dating Perrie Edwards and he has not learned from his "mistakes."
Some fans are feeling, "Ehhhh, maybe not the best choice, but it's OK."
For those of you who don't know who Perrie Edwards is, allow me to fill in the blanks.
When Malik was still in One Direction (and One Direction was still together in general... RIP), he started dating Little Mix singer Perrie Edwards. They got engaged and stayed engaged for two years. He got a tattoo of Edwards' face on his right arm during their relationship. The couple broke up and Zayn started dating Hadid not too long after, confirming their relationship in his "Pillowtalk" music video.
Malik famously left One Direction in March of 2015 while he and Edwards were still engaged. When he did, lots of people blamed Edwards, saying she was encouraging him to start a solo career (not the worst suggestion in the world to make, but sure, let's villainize her for it...). In August 2015, Malik got a record deal with RCA Records and his engagement to Edwards was over a week later.
Malik eventually had his tattoo of Edwards' face covered by another one. And now, some fans are worried he'd have to do the same thing if he and Hadid ever ended their relationship.
Hadid and Malik have been going strong for the last two years, and we cannot get enough of their cute pictures.
Hadid posted an adorable collection of photos on Instagram in honor of Malik's 25th birthday on Friday, Jan. 12. Her sweet caption read,
love this man more than I could ever put into words, & am inspired by his drive to be and do better everyday ✨ cheers to YOUR YEAR my @zayn - happiest happiest birthday & 25th year of life !! I'm proud to be by your side x
When their anniversary came around, Hadid posted a sweet selfie on her Instagram story of them kissing while on a date. She captioned it, "2 yrs w my favorite human."
Hadid and Malik's relationship seems very solid, and we love seeing them together. Even though fans have their different opinions about this specific tattoo on Malik's chest, it's his decision and choice. If it is in fact of Gigi Hadid's eyes, then this is a pretty romantic gesture on Zayn's part.