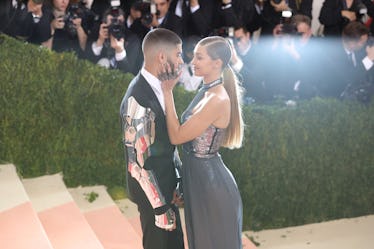 Gigi Hadid & Zayn Malik Celebrated Their 2-Year Anniversary & The Instagram Post Is So Cute
Neilson Barnard/Getty Images Entertainment/Getty Images
In a confusing world, it's nice to know we can count on Gigi and Zayn as one of our constants (at least for now). The supermodel and pop prince have been going strong since 2015, and it's been a real joy to watch their relationship — mostly because they are beautiful people, and looking at beautiful people is fun, but also because it makes us believe in love, I guess. Photos of Gigi Hadid and Zayn Malik celebrating their two-year anniversary are so cute in an equally annoying and satisfying way.
Here's the thing about celebrity couples: we want to relate to them but we simply can't. Zayn and Gigi, while seemingly low-key and adorable together on Instagram, are far from your "average" couple, and have been juggling their insane careers plus their romantic lives all at the ripe ages of 22 and 24. While us regular civilians might think there's extra drama when one famous person dates another famous person, Malik says it actually makes thing easier because Hadid "gets it."
He told the Evening Standard in a previous interview,
I can understand how it can look, that you've got these two people in a 'power couple.' That's not something I want to be a part of. I'm with her because I like her and I hope she's with me because she likes me.
He added that when he and Hadid are alone, they leave fame at the door.
When we come home, we don't really talk about that s—. We just spend time together as a normal couple, cook food, watch TV, have a laugh.
Here, look at them being "normal."
Hadid posted the above boomerang on Nov. 12 with the caption "2 yrs w my favorite human."
Mmm hmm. Casual chandelier. Casual champagne. Casual, casual, casual.
Still, despite their crazy schedules and lives, Malik says they've found a way to make spending time together a priority. He told Billboard magazine,
It's actually not that hard for us [to line up schedules]. It helps that she's really organized. Thank God! Because I'm really not, so she helps organize my schedule around seeing her!
Apparently, the two are also "pretty much living together" according to People magazine. They apparently spend most of their time in Malik's Los Angeles and London homes, and Hadid's New York City apartment.
Again, CASUAL.
Malik says that when they're together, Hadid often gets exclusive first listens to his new music.
She's in the studio quite a lot,. She likes to cook for me and stuff — when I'm here late, she'll come down and bring me food. She's cool.
Wow, if only one day I could find a man who calls me "cool." I'M KIDDING! (NO I'M NOT!)
In a similar supportive spirit, Hadid shared with Entertainment Tonight that Malik actually knows what he's talking about when it comes to fashion, a topic that is obviously her expertise.
She said,
[Zayn] has amazing style on his own and we do the normal, 'Does this look good?' or 'Do you like this?' But he's really inspired me to wear what makes me happy and be really true to my own style because he does that every day. So, it's fun to watch him and from there have fun with my own style.
Right. I'm sure that's exactly how it goes down – Victoria's Secret model looks at heartthrob, boy band rebel and asks if her outfit looks good, because that makes sense.
Regardless of how they spend their time together off the red carpet, we're happy to see these two going strong.
HAPPY ANNIVERSARY, YOU CRAZY NORMAL KIDS!
Check out the entire Gen Why series and other videos on Facebook and the Bustle app across Apple TV, Roku, and Amazon Fire TV.