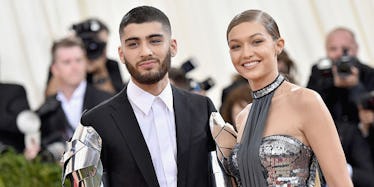 Zayn Malik Gushes Over Gigi Hadid In Adorable New Interview: "She Gets It"
Mike Coppola/Getty Images for People.com
It's been a tough year of celebrity breakups.
There was Brad Pitt and Angelina Jolie, Amy Schumer and Ben Hanisch, and Kylie Jenner and Tyga – just to name a few.
So it's refreshing to actually see a young Hollywood couple going strong, despite the paparazzi, travel schedules, and pressures that come along with everyone watching your relationship like a hawk.
Zayn Malik and Gigi Hadid are here to be that light in the middle of a dark tunnel of celebrity breakups.
Although they briefly split up and got back together last summer, the famous lovebirds have been linked since November 2015. That's a long time for a Hollywood couple -- or literally anyone in their 20s.
Perhaps everyone could take a few notes from these two on how they make it work. Allow Zayn to explain...
The 24-year-old former One Direction member recently opened up to the Evening Standard about his relationship with the 22-year-old supermodel.
Speaking on what it's like being part of such a famous couple, Malik revealed,
In New York [where Hadid is based], you can sometimes get out in the early hours of the morning for a walk. But there's no underground parking here, no escape routes. So they're going to get pictures, they're going to find you. In LA [his own usual US base], it's more catered to these things — you've got back entrances and that.
While he acknowledged their level of fame, he still insisted they are just a "normal couple."
Responding to whether or not it helps to have a partner who is used to the limelight, like Hadid, he said,
She gets it, she's very understanding. But I can understand how it can look, that you've got these two people in a 'power couple.' That's not something I want to be a part of. I'm with her because I like her and I hope she's with me because she likes me. When we come home, we don't really talk about that sh*t. We just spend time together as a normal couple, cook food, watch TV, have a laugh.
Awwww, how sweet.
OK, but that's kind of where the "normal" ends because then the "Pillowtalk" singer started talking about what he likes to cook and it's... not what you'd expect.
He shared,
I've got into a thing of cooking pies recently. I cook a mean chicken and sweetcorn pie, with Alfredo sauce. I make my own pastry, roll it out and everything.
I'm not saying I wouldn't eat it, but that's just not what I picture Malik making for his Victoria's Secret model girlfriend.
It's good to know if he or Hadid ever want to take a break from singing and modeling, they can always open up a pie shop somewhere. In fact, I'm almost certain that would be wildly successful.