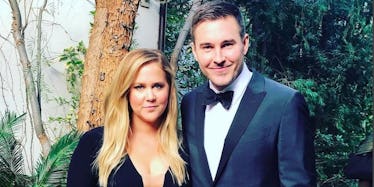 Amy Schumer And Boyfriend Ben Hanisch Call It Quits After A Year And A Half
Instagram
Amy Schumer and Ben Hanisch have broken up after dating for a year and a half, so yeah, love is dead.
Noooooooooooo! Why?! I'm not crying, you're crying.
Elite Daily reached out to Schumer's team for comment, but did not hear back at time of publishing.
A rep for Amy told People,
Amy and Ben have ended their relationship after thoughtful consideration and remain friends.
While we don't have a reason for the split yet, the couple have not been spotted out together in a while.
The 35-year-old comedian and actress met Ben Hanisch, a furniture designer, on a dating app back in the fall of 2015.
They took their relationship public at the beginning of 2016 when the "Snatched" star posted a photo with her "man" at the White House.
Almost one year ago to the day, Hanisch Intagrammed this adorable photo of the two, captioning it, "6 months with this babe and I couldn't be any happier."
In July of last year, Schumer told Vogue,
We're in love. And we're still in total honeymoon phase. It's a real relationship. Who knows what will happen, but we're real good right now.
UGH, so much changes in a year! Can we all remember happier times for a second?
OK, moment over.
Although their last major public appearance together was at the Golden Globes in January, Schumer happily chatted about her boyfriend as recently as two weeks ago.
She opened up on "The Howard Stern Show" about meeting Hanisch on the dating app, which she said she was only on for 48 hours. Hanisch was her first match.
She explained,
The picture was him dancing with his grandma at a wedding and it was really cute.
However, Stern, who said it was a "miracle" their relationship had lasted so long, then asked Schumer about marriage, and her answer may have been a slight clue things weren't going to last forever -- or, like, until the end of the month.
She told Stern,
We are talking about today. I love the idea of committing to someone and making that choice and I want to have a family but right now, we are not in talks.
Hanisch was never shy about expressing his love for Schumer all over Instagram -- although the last time she appeared on his feed was back in March in celebration of the release of her Netflix special.
It's depressing to see such an adorable couple end things, but -- most likely in an effort to keep Hollywood love at equilibrium this week -- it does appear there's a new pair heating things up just in time for summer.
Taylor Swift reportedly has a new boyfriend. So at least the paparazzi won't be bored?
Citations: Amy Schumer and Ben Hanisch Break Up (People)