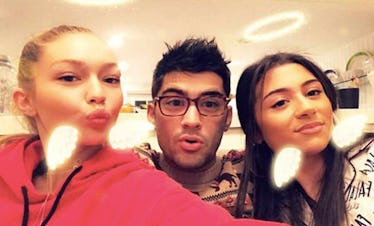 Gigi Hadid & Zayn Malik Spent Christmas Together With Their Families & I'm Sobbing
Instagram/Gigi Hadid
Is anyone else shocked that Gigi Hadid and Zayn Malik have lasted this long...? Am I pissing off fandoms by questioning this...? Oh well, I'm gonna say it: I am very shocked Gigi Hadid and Zayn Malik have lasted this long. The so-gorgeous-it-actually-defies-science couple have been serious for a while now, with both of them having met each other's families and gone on lots of vacations together. Next step: spending Christmas with each other's fams. The photos of Gigi Hadid and Zayn Malik on Christmas Eve will, if you're a skeptic like me, make you believe their relationship is very much the real deal.
The couple of two years have actually spent Christmas Eve together in the past, so now it's pretty much a tradition. They spent this year making gingerbread houses and hanging out with family. Malik's sister, Safaa, was there, and they all posed for an adorable selfie on her Instagram story. The whole chill night was documented on her story, actually, and I'm sure it's that #goodcontent Gigi and Zayn stans ate right up. The photos consisted of lots of selfies in Christmas PJs (bless), the aforementioned gingerbread houses, and lots of holiday filters.
This selfie of Gigi, Zayn, and Safaa is adorable AF and shows just how much Gigi is part of the Malik fam.
She also posted this ~angelic~ selfie of her and her boo.
Uh, Gigi, the wings are blocking your face!
*Beyoncé voice* We built gingerbread housesssssss.
Mama Hadid also built one!
Safaa Malik also posted this ~festive~ selfie on her Instagram story on Christmas Eve.
And the other selfie on Christmas!
Gigi and Bella Hadid's brother, Anwar, was also in attendance at this blessed gathering, but he couldn't hang and fell asleep.
If you don't know who Anwar Hadid is, he's also a model. So that tracks. Unfortunately, there was no sign of Bella Hadid, but that doesn't mean she wasn't there! She might've just been off watching a basketball game on TV in another part of the house. We all know how much Bella Hadid loves basketball. And sneakers.
Anyway, back to Gigi and Zayn! The couple celebrated their two-year anniversary in November. Unsurprisingly, Hadid posted on her Instagram story to commemorate the occasion.
She posted a selfie of her and Malik kissing, saying, "2 yrs w my favorite human."
While Malik rarely posts/talks about his relationship with Hadid in interviews, he did open up about their relationship being "normal" to them in a June interview with Evening Standard. He told the outlet, "I can understand how it can look, that you've got these two people in a 'power couple.' That's not something I want to be a part of. I'm with her because I like her and I hope she's with me because she likes me." He added, "When we come home, we don't really talk about that s—. We just spend time together as a normal couple, cook food, watch TV, have a laugh."
In case you need more proof that these two are great together, Malik says Hadid helps him keep track of his busy life. Malik told Billboard, "It's actually not that hard for us [to line up schedules]. It helps that she's really organized. Thank God! Because I'm really not, so she helps organize my schedule around seeing her!" He revealed she spends a lot of time with him when he's recording music. He said, "She's in the studio quite a lot. She likes to cook for me and stuff — when I'm here late, she'll come down and bring me food. She's cool." Yeah, she's cool. I totally know 'cause we're totally friends. I'm actually the one taking all of the photos on Hadid's Insta story, so.