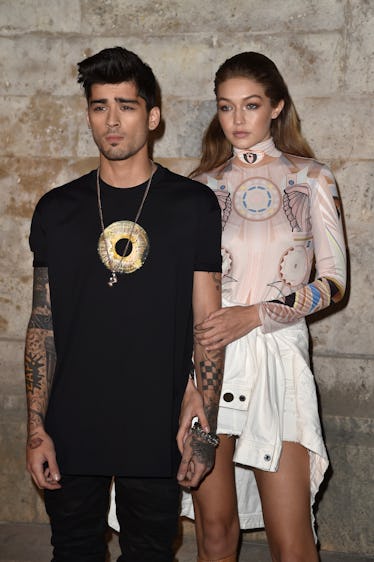 Zayn Malik Opened Up About His Breakup With Gigi Hadid & It's Heartbreaking
Pascal Le Segretain/Getty Images Entertainment/Getty Images
It's been about a month since Zayn Malik and Gigi Hadid split, and I still can't stop dreaming about them getting back together. TBH, it's only gotten worse since Zayn phoned into On Air With Ryan Seacrest on Friday, April 13 to promote his new single "Let Me," and confessed that he had hoped to love his model girlfriend "forever" instead of just two years. But sadly, he said, "things change." Are you crying yet? Because Zayn Malik's comments on his Gigi Hadid breakup are seriously heartbreaking, and I'm going to need these two to re-evaluate their future together as a couple ASAP.
The 25-year-old singer told Seacrest he was "really excited" to promote his new single, which he said he wrote "about seven or eight months ago," when he was still dating Gigi. "I was in love — and I think that's pretty evident," he explained. "I was aspiring to be in love with someone for the rest of my life and the rest of theirs, as we all do. Things change and we move forward in life. Times change, but that's what I was thinking when I wrote it."
OMG you guys, this is just so sweet and sad! And how mature is Zayn for being able to cop to such intense feelings? Now I'm shipping a Zigi reunion more than ever, because these two deserve this kind of love. Check out these lyrics the former One Directioner penned about his former muse:
Baby, let me be your man, So I can love you, And if you let me be your man, Then I'll take care of you, you, For the rest of my life, for the rest of yours, For the rest of my life, for the rest of yours, For the rest of ours
I mean, he might as well just be doing this:
I just love a good Love, Actually reference, don't you? Come on, G and Z — let's give this thing another go!
Meanwhile, despite the breakup, Zayn he told Ryan Seacrest he has zero regrets about writing the song. "We go through experiences so we have memories and stories and things to write down and contemplate and think about," he said. "You get to really put your experience into something. It should be remembered forever."
Thanks to the music video for "Let Me," which dropped on April 12, I'm pretty sure it will be. The video features Zayn completing a bunch of James Bond-style missions, and then sailing off into the sunset with a Gigi lookalike.
Watch:
So perfect. And I guess while the on-screen happy ending is bittersweet, it's not really all that surprising when you consider that this is what Zayn had to say about Gigi at the time of the breakup in March 2018:
Gigi and I had an incredibly meaningful, loving and fun relationship, and I have a huge amount of respect and adoration for Gigi as a woman and a friend. She has such an incredible soul. I'm grateful to all of our fans for respecting this difficult decision and our privacy at the time, we wish this news could have come from us first. We love you all. xZ
Aw, such a gentleman. Even Gigi's mom, Yolanda Hadid, hasn't given up hope. She even referred to Zayn as a "beautiful human" and "like a son" in a recent interview with The Daily Mail.
"I truly believe they're all on their own journey," she told the publication. "It's not in my hands anymore so I'm just sitting back and letting it all unfold."
Me, too, Yolanda. Me, too.