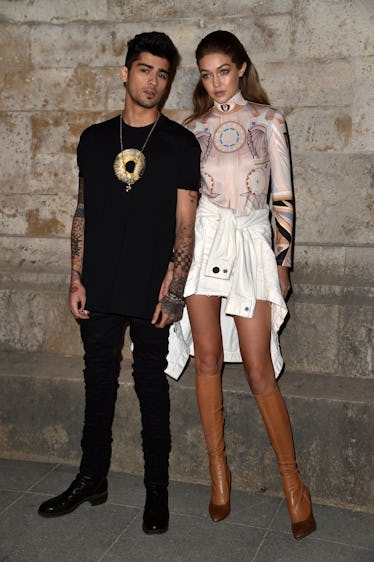 Zayn Malik Dropped A New Song Called "Let Me" & We Have One Major Question
Pascal Le Segretain/Getty Images Entertainment/Getty Images
Do you fancy an international man of mystery? How about watching some action-packed fighting scenes? What about witnessing two gorgeous humans getting steamy together? If you've said yes to all three of those things, then you're probably going to like Zayn Malik's first single, "Let Me," from his upcoming second solo album, and the music video. The video plays out much like a James Bond-style movie, and, as with all of those kinds of movies, there's always a beautiful woman thrown in the mix. But many people think that the woman in Malik's video looks eerily similar to Malik's ex-girlfriend, and are wondering if "Let Me" is about Gigi Hadid. Because at the end of the day, the song's lyrics are really just about a love story, after all.
The former One Direction member debuted "Let Me" on Thursday, April 12, and the video is all sorts of thrilling. It's got Zayn going on some kind of shady ~mission~ and, as a reward, he'll get the girl (aka the Gigi Hadid look-alike) from a guy who looks far from nice. When Zayn's character realizes that he wants to be with her without all these dangerous strings attached, he tries to back out of his mission, manages to kick some *ss along the way, and, with the help of fake Gigi, escapes the scary situation. They, quite literally, sail off into the sunset together.
Many people are convinced that the use of a Gigi look-alike proves that this song is all about her, but honestly, the song's lyrics can really be meant for no one in particular. Some of the lyrics go:
Sweet baby, our sex has meaning, Know this time you'll stay 'til the morning, Duvet days and vanilla ice cream, More than just one night together exclusively, Baby, let me be your man, So I can love you, And if you let me be your man, Then I'll take care of you, you, For the rest of my life, for the rest of yours, For the rest of my life, for the rest of yours, For the rest of ours
The lyrics continue:
We're drinking the finest label, Dirty dancing on top of the table, Long walks on the beach in April (beach in April), Yeah, I promise, darling, that I'll be faithful (be faithful)
Since those last lyrics seem a *little* bit more specific, I did some digging to try and see if there were any correlations tied to them. What I found was that Zayn Malik and Gigi Hadid did vacation in Tahiti together, where they presumably took long walks on the beach... but that was in August of 2016 and not April. Swing and a miss on that one.
And, while we did see Gigi post a video of Zayn dancin' dirty for his birthday in January, it wasn't on top of a table, and she didn't join him in grooving:
No tables, no drinking from fine labels. Strike out yet again.
Look, there may be a chance that it's about Gigi, but we've yet to receive any confirmation on the matter from Zayn. During an interview with the BBC on April 12, Malik talked about his new solo release, saying, "I'm excited to see what people think of it. I think my confidence has grown in the last year and a half. It's a bit different to my last record in terms of, it's matured."
But Malik wouldn't divulge who "Let Me" is really about. When asked, he responded by saying,
It's not always the wisest thing to do, it just complicates things so I have tended not to do that anymore, I just keep it to myself.
Damnit. I guess we'll never truly know. But, if I had to take a shot in the dark, I'd say that there's a pretty high chance that the song is about Gigi. I mean, the guy did get a tattoo of eyes that look eerily similar to Gigi's on his chest, so I can't see that writing a song about her is too out of the question. Maybe Zayn is even using the song as a plea for Gigi to get back with him.
Kind of miss these two together, if I'm being honest.
Come back, Zigi!