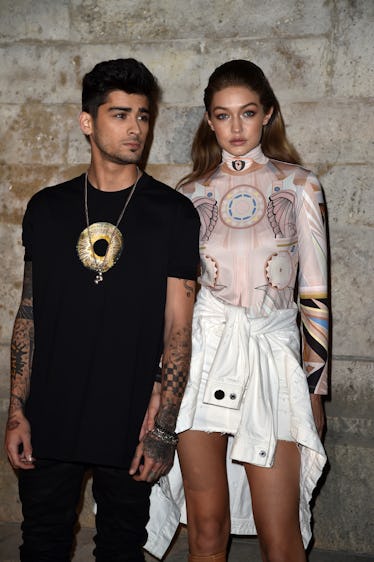 Gigi Hadid & Zayn Malik Reportedly Called It Quits & Twitter Is Having A Meltdown – UPDATE
Pascal Le Segretain/Getty Images Entertainment/Getty Images
It's a sad, sad day for true love, folks. Gigi Hadid and Zayn Malik have reportedly called it quits, and now my eyes are leaking uncontrollably. You can't tell me that you didn't absolutely love these two together (and if you do, I will promptly tell you that you're lying), because they seemed to just click. I'm clearly not alone with my devastation, though, because these tweets about Gigi Hadid and Zayn Malik breaking up will surely also make you extra, extra sad. While it's simply speculation at this point, I still can't help but be super bummed if this news is true. Elite Daily has reached out to both teams to confirm the report, but has not heard back at the time of publishing.
UPDATE: Zayn Malik has confirmed he and Gigi Hadid have split up. The musician took to Twitter on Tuesday, March 13, writing, "Gigi and I had an incredibly meaningful, loving and fun relationship and I have a huge amount of respect and adoration for Gigi as a woman and a friend. She's such an incredible soul. I'm grateful to all of our fans for respecting this difficult decision and our privacy at this time, we wish this news could have come from us first. We love you all. xZ"
On the same day, Gigi Hadid shared the following statement: "Breakup statements often seem impersonal because there is really no way to put into words what two people experience together over a few years .. not only in the relationship, but in life in general. I'm forever grateful for the love, time, and life lessons that Z and I shared. I want nothing but the best for him and will continue to support him as a friend that I have immense respect and love for. As for the future, whatever's meant to be will always be. xG"
EARLIER: According to The Sun, the couple has reportedly broken up after two years of dating, and I just don't understand. "They are no longer a couple but they do remain close and are supportive of each other," a source told the magazine. "The reality is that they've grown apart, having been together for a long time ... This is definitely the end for now, but this isn't a bitter split and they both have respect for each other."
No, it's fine. I'm fine. Everything is fine.
The source also told the magazine that their decision was "mutual" and CAN SOMEONE PLEASE TELL ME THAT THESE ARE MERELY RUMORS? Because this is breaking my damn heart, and apparently, there are broken hearts all over Twitter, too.
Are you prepared for these tweets? Like, truly, physically ready for your heart to be smashed into bits? Break out the tissues, y'all, because you're going to need them:
This is exactly why we can't have nice things.
Many fans also questioned what Zayn would do about his tattoo that looks similar to Gigi Hadid's eyes, because, well... they really do look like Gigi's eyes.
Maybe this means that they should just stay together forever? Just a thought.
And one user tweeted the thing that's almost worse than the pair breaking up in the first place:
Sorry, NYC, it looks like there may no longer be any more Zigi sightings.
If you're like, "NO WAY, they must still be together," consider the fact that Zayn unfollowed Gigi on Instagram. And he THEN posted a very cryptic selfie (where you can still see the Gigi-look-alike eyes), with a caption that read, "When Life throws you lemons , catch em so they don't hit you in the f*cking face":
Pair all of THAT with the fact that Zayn showed up to the Grammys without Gigi by his side (looking dapper AF, but that's totally not the point) in January, and everything points to trouble.
Zayn, Gigi, don't do this. Just don't. If you are going through a "thing," I totally get it and respect it. But I'd really love it if whatever you guys were going through, you came out of it together.
Because what's life without true love? What's life without Zayn and Gigi?
A lie. That's what it is.
Just last November, during an interview with Billboard magazine, Zayn spoke about his relationship with Gigi and how, despite their hectic schedules and the extraordinary circumstances of fame, the pair managed to make their relationship a priority. He said,
It's actually not that hard for us [to line up schedules]. It helps that she's really organized. Thank God! Because I'm really not, so she helps organize my schedule around seeing her ... She's in the studio quite a lot. She likes to cook for me and stuff — when I'm here late, she'll come down and bring me food. She's cool.
Where did it go wrong? How can we make it right? Zayn, Gigi: If you're reading this, let us know what the deal is. We're here for you.