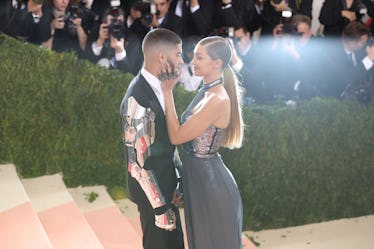 Zayn Malik Attended The Grammys Pre-Show Without Gigi Hadid & Fans Have Questions
Neilson Barnard/Getty Images Entertainment/Getty Images
Well here we are again, another awards season and that means glitz, glam, and of course those celebrity couples we can't get enough of. Last year, Zayn Malik was snubbed at the 2017 Grammys, but this year he has been nominated, so it seemed pretty likely that he would show. So are Zayn Malik and Gigi Hadid at the Grammys? Well at least one of them is...
Malik showed up at the Grammys pre-show the night before the big show and looked fly in an all-black getup. Though, sadly it seemed that he had showed up without his lady, which is a serious shame because the two always slay the red carpet. Oh well — we can't have everything.
It's probably extra disappointing because before the show, it seemed pretty likely that both halves of the couple would appear. Malik finally snagged himself a Grammy nomination at the 2018 awards for "I Don't Want to Live Forever," the 50 Shades Darker soundtrack song he performed with Taylor Swift, which was co-written by Swift and Jack Antonoff. Regardless of how much of a hand Malik had in the song, he could end up being the first member of One Direction to win a Grammy, and obviously he wouldn't want to miss that. So he showed up to the 2018 Grammys in a unique pink suit.
Last year, fans thought that Malik would definitely be nominated for his solo album Mind of Mine, or single "Pillowtalk." Unfortunately, Zayn was already at a disadvantage out of the gate because he was ineligible for Best New Artist because of his successes with his former group One Direction, according to Billboard.
Zayn might not have racked up Grammys or nominations for his own works, but at least he still has Gigi Hadid. It's just a shame that we didn't see them together on the red carpet this year.
Fans questioned where the couple part of the couple was.
Hadid and Zayn have been going strong since their first public appearance at the Manus x Machina: Fashion in an Age of Technology 2016 Met Gala. You remember that one, where they basically came as the super hot Mr. and Mrs. Terminator?
The couple had everyone talking about their commitment to theme parties.
Though the couple chose to make their first official debut at the ritzy event (and in the most fierce fashion, might I add), Hadid did admit to Ellen Degeneres last February that she and Malik had met years before through a mutual friend. Hadid said,
We actually met at a friend's birthday party a few years ago and then he was in New York to come to the Victoria's Secret show last year I think and ended up not coming.
But it doesn't matter, because they had their first date a week later! Here, watch this video and hear about all the love:
Back in November 2017, the couple celebrated their two-year anniversary.
Hadid posted a little Instagram video of the two kissing with caption "2 yrs w my favorite human." Aww.
It's almost too cute. If you hate love, stop reading.
According to Popsugar, the two love-birds were last spotted hand-in-hand in New York City celebrating Malik's birthday in matching all-black getups.
On Jan. 12 Hadid posted the sweetest Instagram in honor of Zayn's 25th birthday.
The caption read,
love this man more than I could ever put into words, & am inspired by his drive to be and do better everyday ✨ cheers to YOUR YEAR my @zayn - happiest happiest birthday & 25th year of life !! I'm proud to be by your side x
A week after the birthday festivities, rumors of the couples' engagement began to whirl when Hadid stepped out in NYC with what appeared to be a gold band on her ring finger. Which was followed by Zayn debuting the word "love" tattooed on his ring finger, Popsugar reports.
The rumors have yet to be confirmed or denied.
Regardless of whether the couple is planning to tie the knot, one thing we know for sure is that they are still adorable. Sadly, fans weren't graced with the pair's poise on the Grammys red carpet. Oh well, there's always 2019.