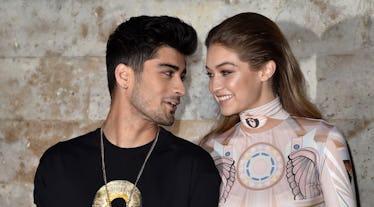 Gigi Hadid's Wearing A New Necklace In Tribute To Zayn That's So, So Romantic
Pascal Le Segretain/Getty Images Entertainment/Getty Images
If anyone is still unsure if Zayn Malik and Gigi Hadid are back together let her most recent Instagram story clear it up for you. The socialite and model posted a video to her account wearing a tiny little piece of jewelry that shouts out her on-again, off-again boyfriend in the sweetest way. Gigi Hadid's Zayn necklace reminds me of old-school romance when people wore each other's pins and things. Honestly, I dig it. Hadid clearly had the singer's first name delicately dangling from a gold chain on her neck and eagle-eyed fans were all over it.
The video itself isn't particularly special. She's simply messing around with filters while a TV or person blabbers on in the background. However, she briefly zooms in on her face and fans can see the word "ZAYN" hanging from her neck. The necklace designer, Lana Jewelry, also posted a picture of Hadid rocking their creation with the caption: "How cute is @gigihadid in her custom ZAYN #LanaJewelry nameplate? The 'Get Personal' collection was created for moments like this. DM for yours. #Zigi#GigiHadid#ZaynMalik." According to Cosmopolitan, the four-letter necklace cost over $1,000. I did a quick search on their website and could only find custom necklaces in diamond letters, though Hadid's looks like the characters are made out of straight gold.
'Scuse me.
Take a look.
Did you catch it? Here's a still if you want to really get in there. The name is actually reversed in the filtered video so you're actually looking at "NYAZ."
Earlier this summer, Hadid defended her right to do whatever she wants to in her relationships when a trolling Instagram account accused her and Malik of dating for PR. According to E! News, the slanderer wrote: "Whatever zigi does for promo. Fact is that, Zayn is not going to follow gigi or ever going [to] post her picture on his Instagram again."
She responded,
Seems like u guys tag me in a new post every day … pls stop.. it's just negative, I really have no hard feelings towards you I just know what a beautiful world there is to go out and live in instead of trying to dissect a relationship between two people that you don't even know and that you do not see 99% of.
As for "following" each other, Hadid continued, "I don't need his follow- my eyes are tattooed to his chest." (Yas, that is true.)
She finished,
The energy you put into this does not serve you our your life in any way kids…. truly 'beating a dead horse.' You guys can call it promo but I just post about my boyfriend like anyone else, whether I support z or he supports me is out of love and excitement for one another. There's nothing to figure out all the time… give it a break. This is my last comment on this matter but I hope u know it's not coming from a bad place. Just would love for you to find something else that inspires you in life…. x.
Tell 'em, Gigi.
Maybe I'll start repping my partner's name, too — just made out of slightly more affordable materials like pipe cleaners or lucky charms.