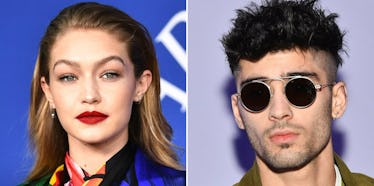 Gigi Hadid Posted A Selfie Of Her & Zayn Malik Cuddling & OMG
Dimitrios Kambouris/Dia Dipasupil/Getty Images
Things might be coming up roses for Gigi Hadid and Zayn Malik stans. The model posted a selfie of her and someone who appears to be Malik to her Instagram story on June 5 that definitely makes it look like they're back together, which is good for Malik considering he got a tattoo of Hadid that now isn't pointless! (Oh, Zayn. Will you ever learn?) Sure, one could take Gigi Hadid's photo of her and Zayn Malik cuddling as them just being amicable exes who hang out, or one could take it as a not-so-subtle confirmation that Hadid and Malik are back together. Elite Daily reached out to Hadid's team for comment on her photo, but did not hear back by the time of publication.
Malik and Hadid broke up back in March and confirmed the split on March 13 on Twitter. Malik's tweet said,
Gigi and I had an incredibly meaningful, loving and fun relationship and I have a huge amount of respect and adoration for Gigi as a woman and a friend. She's such an incredible soul. I'm grateful to all of our fans for respecting this difficult decision and our privacy at this time, we wish this news could have come from us first. We love you all. xZ
Hadid's tweet said,
Breakup statements often seem impersonal because there is really no way to put into words what two people experience together over a few years .. not only in the relationship, but in life in general. I'm forever grateful for the love, time, and life lessons that Z and I shared. I want nothing but the best for him and will continue to support him as a friend that I have immense respect and love for. As for the future, whatever's meant to be will always be. xG
Broken up, eh? So how do you explain this?!
I recognize Zayn's tattoos there, Gigi! You can't hide this from me! (Note: she definitely doesn't look like she needs or wants to hide anything. I'm just being extra.)
The selfie shows Hadid laying her head on a man's lap who's playing Pokémon on a tablet. The tattoos on the man's arms are the same ones Malik has, and Malik currently has blonde hair just like the hair the man in the photo dons. So yeah, that is most likely Zayn Malik in the photo.
Malik posted this photo to his Instagram story on the same night.
It's a YuGiOh card, which obviously isn't the same as Pokémon, but they're in the same genre, so it's not far off to think that he played Pokémon and YuGiOh in one night.
Fans of the couple are freaking out that Zigi could very well be alive once more.
Their breakup came as a bit of a shock because throughout their two years of dating, the couple seemed pretty solid. No public drama, just lots of cute selfies.
Like this selfie Hadid posted in honor of Malik's birthday in January.
Her caption was super heartfelt and said,
love this man more than I could ever put into words, & am inspired by his drive to be and do better everyday ✨ cheers to YOUR YEAR my @zayn - happiest happiest birthday & 25th year of life !! I'm proud to be by your side x
Just two months later, they called it quits. Their breakup, according to The Sun, was a mutual decision, but a source told the outlet that fans could probably hope for reconciliation between the two. They said, "They both have respect for each other. It's a mutual decision so no one has completely ruled out a reunion in the future, but for now that's not where their heads are at." The source also told The Sun that the main reason behind their breakup was their conflicting schedules and not a loss of love, so I guess we shouldn't be surprised that Zigi is (possibly) back on.