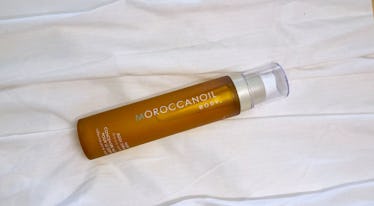 This New Body Serum Gave Me Soft Skin Overnight, So I'm Ready To Handle Dry Winter Weather
Courtesy of Bella Gerard
As a beauty lover, I'm half-proud, half-ashamed to admit just how many drawers I have dedicated to skincare. My apartment is overflowing with oils, serums, moisturizers, masks and the like, not to mention an abundance of hair products like dry shampoos, leave-in treatments, and texture sprays. The one area in which my pampering products lacked, though, was body care, which is pretty wild when you think about how much effort I'm putting in elsewhere — hence this Moroccanoil Night Body Serum review. Now that I've finally found a product that makes me as excited about body pampering as I am about my neck-up routine, I need to share it with the world, so that we can all have have super soft, supple skin this fall and winter.
To be clear, prior to using this product, my entire body pampering routine has consisted of shower products (daily body wash and the occasional body scrub) along with the occasional body lotion, applied only in an attempt to preserve a fading spray tan, or on the rare occasion that my skin looked especially parched. I've always been told I have soft skin without putting much effort into my body moisturizing routine, so I've never really felt like I needed to go the extra mile. It wasn't until I heard about Moroccanoil's latest launch, though, that I considered stepping up my body regime to match that of my face routine.
Just a few days ago, Moroccanoil took to its Instagram to announce its latest product, an overnight treatment to smooth and firm the body:
TBH, when I first laid eyes on the Night Body Serum ($62, moroccanoil.com), I didn't totally get the hype. I was already familiar with the brand's other body oil products, and didn't see how this would be any different. Its Dry Body Oil ($48, moroccanoil.com) is a favorite of my roommate's that I've borrowed from time to time, and I immediately assumed that, because of the Moroccanoil brand name, all its products were just different iterations of their signature oil with no added benefits. Boy, was I wrong.
The second I felt the texture of the new serum, I couldn't believe it: It felt nothing like any body oil, lotion, or moisturizer I'd used in the past. It was exactly like the concentrated, powerful serums I had become used to spreading only on my face and neck: thicker than an oil without feeling heavy on the skin, yet lighter and more quickly absorbing than a heavy body cream. I normally dread slathering on body products before going to bed, as I don't like feeling sticky, but I found myself super excited to apply the serum, and it sunk in in seconds and left my skin softer than usual.
After learning more about the product, I was able to determine what made it so unique from the rest of the Moroccanoil body care line. While it does include the brand's signature argan oil, it also contains ingredients like tsubaki oil to hydrate and replenish the skin, holy basil extract to prevent damage from environmental stressors and pollution, and vitamin C to firm and brighten skin for a more youthful complexion. This is actually the first body product with vitamin C I've ever used — to think, I'm so dedicated to applying these heavy-duty ingredients on my face, and I've never even thought to show the rest of my body the same love!
I mean, Sara Sampaio is the face of the product launch, and if this thing can guarantee me runway-ready skin, I'm definitely going to stick with it:
After my first night of use, I woke up and gave myself a once-over to find my skin as supple as ever. The serum hadn't left me with any heavy, sticky residue, but instead had absorbed completely and enhanced my skin's natural softness. Somehow, I found myself — the girl who hates applying body lotion — looking forward to the next night, when I could try it out again. A few uses is obviously too soon for me to tell if it really firmed my skin as promised, but the hydrating, nourishing elements are the ones that appeal to me most anyway, especially as we move towards the colder, dryer part of the year.
While I definitely don't see myself building a body skincare regime as extensive as the one for my face, I plan to continue on with my use of the Moroccanoil Night Body Serum, and I'm excited to continue reaping the benefits. Catch me looking supple and hydrated all fall and winter long, and if you see me in person and I shake your hand, don't be afraid to let me know how soft my skin is.