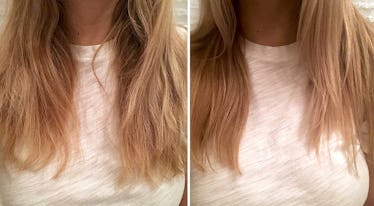 This Silicone-Free Hair Serum Is Under $10 & Transformed My Frizzy Strands Into A Silky Dream
Courtesy of Bella Gerard
After 10 consecutive years of embracing beachy waves, something inside me has shifted. Out of nowhere, I've developed a newfound affinity for shiny, sleek strands. I've spent an entire decade trying to get my hair as matte, messy, and (dare I say) crispy-looking as possible, but suddenly, I'm desperate for a super-smooth finish, hence my hunt for the perfect product. After an entire summer of frizzy hair and unsuccessful serums, I'm finally here to deliver my Marc Anthony Bye.Bye Frizz 8-in-1 Serum review, and tell you all about why you need this inexpensive product to satisfy any and all shiny hair cravings.
For a long time, I had myself convinced that the dull, dry ends of my hair looked carefree, undone and cool. Really, my ends were fried and damaged, and even after getting a few trims to remove the dead weight, my strands still looked lackluster when styled and frizzed up in the heat. I was hesitant to load up on product, though, because the roots of my hair were naturally oily, and the idea of anything shine-enhancing immediately struck me as a greasy disaster waiting to happen. I knew I needed a quick fix for days when I wanted my hair to have a sleeker finish, but I didn't want to suffer a million bad hair days in the process of finding something that would get the job done.
Imagine how thrilled I was when I heard Marc Anthony True Professional were re-releasing its Bye.Bye Frizz Collection with all new silicone-free formulas, and launching a handful of new products as well. As a big fan of the brand's products (almost all of which cost less than $10!), I had always been curious about its well-known "purple line," as fans refer to it, but the inclusion of silicone in the formulas had always turned me off — until now.
Along with the reformulated shampoo, conditioner, and blow dry cream, the brand released three new products: the Bye.Bye Frizz Protecting Leave-In Conditioner ($4.50, originally $9, Ulta), the Bye.Bye Frizz Humidity Shield Hairspray ($4.50, originally $9, Ulta), and my personal favorite, the Bye.Bye Frizz 8-in-1 Serum ($4.50, originally $9, Ulta). The entire line is free of silicone, sulfates/SLS, parabens, and phthalates, and as the names imply, its focus is on stopping frizz for good.
Immediately, I found myself drawn to the Bye.Bye Frizz 8-in-1 Serum. Unlike the other larger products, the 1.69-ounce bottle was small enough to throw in my purse for on-the-go glossing, which was what I felt my hair needed most. My dry ends often played tricks on me, looking fab in my apartment and then frizzy and wild by the time I reached my destination, so something I could take with me for touchups was exactly what I needed. When the brand credits this little guy with 8-in-1 magic, it's claiming it works to reduce frizz, strengthen, moisturize, repair, protect, nourish, smooth, and serve as a humidity shield. Please note, this serum officially has a wider skill set than I do.
When I first pumped the product onto my hands, I wasn't expecting it to feel so silky. I had only ever come across that texture in silicone-based formulas, and I was impressed by the slippery feel the serum's ingredients gave off. This serum contains hydrolyzed silk, dual keratin, Abyssinian oil, and sunflower seed oil, all of which help hair look and feel soft and sleek in a much healthier way than an unnatural ingredient like silicone ever could.
While silicone can weigh hair down and prevent moisture from getting in, these ingredients do more than just mask damaged hair in a veil of shine — they prevent frizz by keeping humidity out, but they don't stop moisture from getting in. If you've ever found yourself applying and reapplying a silicone-based serum, thinking more will make a difference, trust me, you're better off reaching for something like this instead.
Here's what my hair looks like before and after working in two and a half pumps of the serum:
Not too shabby, right? You can apply this serum to wet hair before drying and styling as well, but my favorite way to use is to stash it in my bag for those group-bathroom-trip primping sessions with my friends. When I apply, I focus the majority of the product on my ends and go up to about mid-shaft, as even though I love this serum, I, personally, would never put a shine product close to my oil-prone roots. I always start out with two pumps to coat my strands, and it's usually enough to get the job done with ease. I've never had a product give my hair so much life in just one application, but it really does feel softer and look shinier immediately after applying, and without any negative side effects later as a result.
Going forward, I definitely plan to take better care of my hair and continue trimming off damaged ends while preventing any new breakage or dehydration. That said, having the Bye.Bye Frizz Serum with me at all times for a quick touch-up is a total lifesaver, and it's comforting to know I can gloss up quickly should the need arise. Before trying this product, if you'd told me my locks could look hair-flip-ready not only in a matter of seconds, but for under $10, I would've called your bluff. Now, though, I'm ready to hair-flip my smooth, shiny, and — most importantly — silicone-free strands as often as possible, and kiss my formerly frizzy, brittle ends goodbye.