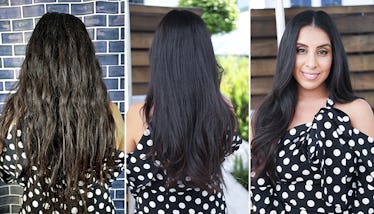 I Tried A Completely "Dry" Haircut & My Hair Looks Almost Longer Than Before
Redken
Every haircut experience I've ever had has always been pretty much the same. It's always wash, cut, dry, and get on with your day. And since I've always had long hair, nothing exciting ever happens in my appointments. But this last one included a completely dry cut (as in, my hair wasn't wet when the stylist cut it) and this dry haircut review will totally shake up the way you think about crops.
Redken hair care and Cutler hosted a pop-up salon in Los Angeles and invited me to come in and get a hair service. The menu included balayage services, unicorn-hair dye jobs, blowouts, braids, and haircuts. For a second, I considered coloring my hair, but being the basic b*tch I am, I opted for a haircut (well, actually a trim). I sat in the chair, waited for a stylist, and prepared for yet another been-there-done-that appointment.
But before I knew it, the legendary Rodney Cutler was playing with my hair and getting his cutting shears ready. In case you didn't know, Rodney Cutler (as in Cutler, New York's coolest salon) is a Redken brand ambassador; he's always creating looks backstage at the edgiest fashion-week shows, and is the man behind the celebrity manes of Emma Watson, Fergie, and Rachael Ray, to name a few. I tell myself he's a genius and to just go with whatever he suggests. Luckily for me, he likes my long hair and just decides to give my some face-framing layers and chop off all of my dead ends. Phew!
The first thing he says is, "I think I'm going to cut your hair dry," and even he notices how my face lights up at the thought of a new experience. Although I came in with my hair air-dried from the night before, Cutler blowdries my hair straight before going in with a flat iron. "I want to see all the detail, how much weight needs to be removed," he says. He has me stand up, while he sits behind me and goes at my ends with a pair of scissors.
With a dry cut, you can leave what you like, and take away what you don't like."
To show me exactly what he's doing, he has an assistant hold a mirror behind me so I can see. He shows me where the damage is and suddenly dry cutting makes sense — you can't see split ends on wet hair, but this way, I can stare them directly in the face. Cutler also points out that in my attempt to keep my hair as long as possible, my ends have taken on this "V" shape. It didn't always look like that — those shorter ends are basically breakage from not getting a cut in so long.
"I really want to focus on the detail," he explains. "If we were doing a big change in length or shape, then I would definitely do it on wet hair, but this is about less is more. Dry cutting really allows me to have a lot of control." He slowly snips off the damage and evens out the shape. I can instantly see my hair looking more healthy, but I'm losing almost none of the length in the process. "With a dry cut, you can leave what you like, and take away what you don't like."
After, my hair has so much bounce, a better shape, and looks much healthier. And he never even had to wash it. Even if he cuts it wet (on more dramatic transformations), he goes back in with scissors again once it's dry to really make sure the shape is perfect. And that's why they call Rodney Cutler a genius.