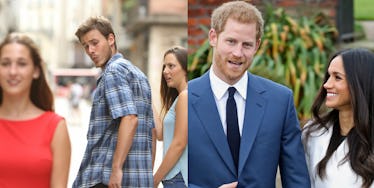 Meghan Markle & Prince Harry's Coin Just Got Turned Into The Funniest Meme
With the royal wedding just weeks away, The Royal Mint has created a commemorative coin to celebrate the soon-to-be newlyweds. The silver coin features images of Prince Harry and Meghan Markle looking at each other adoringly, and it's probably what you'd expect a commemorative royal wedding coin to look like. Thanks to the internet, it's also turned into a meme with Meghan Markle and Prince Harry's coin, and it might just be your new favorite.
Since the May 19 wedding is quickly approaching, much of the conversation has been about what kind of dress Markle will wear or who is on the guest list. Honestly, it's pretty fun to see this twist on the royal wedding conversation, and all it took to make it happen was a quick flip of Prince Harry's image on the coin. By changing the coin to show Harry looking in the opposite direction of Markle, the image lends itself to turning into the distracted boyfriend meme.
According to Twitter, Chris Barker is the photoshop master who turned the picture of the commemorative coin into a meme similar to the distracted boyfriend meme that went viral last August, and he posted his meme masterpiece on his Twitter account on Wednesday, May 2. Of course, this version of the meme stars Prince Harry as the "distracted boyfriend."
The image on the coin really does transform into the meme pretty seamlessly.
I mean, just take a look at the similarities.
As soon as Barker posted the picture of the royal meme, Twitter applauded.
According to Know Your Meme, the distracted boyfriend meme originated as a stock photo that was taken by photographer Antonion Guillem and posted to iStock. It was captioned with a description that read, "Disloyal man with his girlfriend looking at another girl," and then the meme grew when people began adding different labels to the people in the photo.
Seeing as though the distracted boyfriend meme was very popular when it went viral last August, it's not too surprising that this royal wedding coin version of the meme also has people screaming.
Now, you probably wouldn't want to be the star of a "distracted boyfriend" meme just weeks before your wedding, but hey, they still have that commemorative royal wedding coin to even things out.
And there will be plenty of actual royal wedding talk to focus on ahead of the nuptials on Saturday, May 19. Prince Harry and Markle will say "I do" at St. George's Chapel in Windsor Castle, and U.S. fans of the royals will have to wake up extra early to take in all the royal wedding fun. The wedding service will start at 12 p.m. local time, which is 5 a.m. ET, and you can watch it all happen from the comfort of your own bed.
It should be a star-studded event, too. Prince William has been confirmed as Prince Harry's best man, and Kate Middleton will be there less than a month after giving birth to her and William's third child, Prince Louis. According to CNN, other possible celebs who might be in attendance to celebrate the couple include: James Blunt, Joss Stone, and Cara Delevingne. OK, this is definitely starting to sound like an event you'd want to see (and that might be worth giving up that precious Saturday morning sleep).
Ever since Markle and Prince Harry announced their engagement last November, all eyes have been on the pair during the months leading up to the big day, so it's no wonder there is a commemorative coin (and resulting memes).