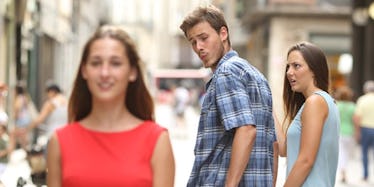 These Awkward Stock Photos Turned Into Memes And Twitter Is Having Too Much Fun
Antonio Guillem / Shutterstock
If you've been on Twitter recently, you've probably seen the "disloyal" and "distracted" boyfriend memes circulating. Made using a series of super awkward Shutterstock stock photos — taken by photographer Antonio Guillem — the memes tell a hilarious (albeit kind of sad) relationship tale. In case you missed it, here, let's go through some of the best examples of these viral stock photos turned into memes.
Before we LOL over the internet's witty compilations, we need some backstory. On Shutterstock, Guillem's photos have the following description:
Disloyal man walking with his girlfriend and looking amazed at another seductive girl
I mean, that description is practically begging to be a meme. Likewise, the photos themselves, when viewed back-to-back, already tell the story Twitter has so beautifully captured and shared.
Traditional stock photos are notorious for their awkward poses, faked expressions, and general not-real-looking nature; however, Guillem's entire "disloyal man" series is too good to ignore.
According to Vox, "Man Looking At Other Woman", as it's called on Know Your Meme, got its start with a tweet from Omar Essam (@n1m161), who used the initial "disloyal man" photo to crack a political joke about millennials. Once people realized there were, indeed, more photos of this bizarre interaction, they added the relationship narrative. And Twitter hasn't been the same since.
ICYMI: Here's the shadiness in one tweet.
Like, what is happening?
"THE CONCLUSION WE'VE ALL BEEN WAITING FOR."
Is it over now?
(I don't think so.)
Look, an even more relatable version involving DOGS.
And another involving ice cream sandwiches.
And another highlighting the realness of a Wikipedia rabbit hole.
me irl from me_irl
And another for all the book worms out there.
One more for a great Happy Hour.
It just keeps going.
Time to sell? from MemeEconomy
Basically, the "disloyal man" meme has many wonderful uses. But the full story with all the photos (and drama) is particularly entertaining, don't ya think?
me irl from me_irl
me irl from me_irl
Thank you, Antonio Guillem for blessing us with such multi-use photography. I now have the perfect way to express my Pumpkin Spice Latte cravings.