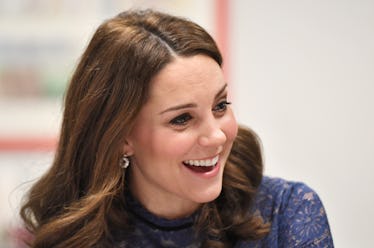 Here's What Kate Middleton Will Be Doing During Prince Harry & Meghan Markle's Wedding
WPA Pool/Getty Images Entertainment/Getty Images
Someone hold my tea and crumpets, because there is a sh*t-ton happening in the UK. If you've been away from all media and technology for the past year or so, let me bring you up to speed. Kate Middleton and Prince William just welcomed their third child, a baby boy, to the royal family on April 23. In a few weeks, Prince Harry is marrying American actress Meghan Markle in what will surely be the wedding to end all weddings. It's a lot for the famous family! However, thanks to her new baby, Kate Middleton's royal wedding role will be reportedly super, super easy, despite all the high-stakes pressures surrounding the day. Phew! (Thanks, baby.)
Vanity Fair reports Middleton's brother-in-law and soon-to-be sister-in-law have gone out of their way to ensure she has zero responsibilities on their big day. Fans have been wondering if Middleton will be in the wedding party and what duties she might have, but it looks like she's dodged all of that. The family knew her third child would be making his debut close to the big day and planned accordingly. A source told Vanity Fair, "Frankly, Harry and Meghan are just happy that Kate will be there given she will only just have given birth." The source added, "They have told her there is no pressure on her to do anything, they just want her to enjoy the day."
A free pass to just chill, eat, drink, and be merry while everyone else stresses about small things that actually have no lingering consequences or significance? Sounds like a sweet deal to me. Sign me up! In fact, Prince Harry and Meghan Markle's wedding sounds like it might be the most relaxing day Middleton's seen in a long time.
Kensington Palace announced the arrival of Middleton's new baby the morning of April 23 on Twitter. The statement said,
Her Royal Highness The Duchess of Cambridge was safely delivered of a son at 1101hrs. The baby weighs 8lbs 7oz. The Duke of Cambridge was present for the birth. Her Royal Highness and her child are both doing well.
The Palace added, "The Queen, The Duke of Edinburgh, The Prince of Wales, The Duchess of Cornwall, Prince Harry and members of both families have been informed and are delighted with the news."
Somewhere, Markle is running around finalizing centerpieces, napkin colors, her wedding dress, and seating arrangements, and Middleton is nursing an infant. What a day to be one of these two women.
While Middleton's been tied up with her pregnancy, Vanity Fair reports Markle and Prince Harry have received a lot of wedding help from Markle's best friend, Jessica Mulroney. In fact, she's even rumored to be the Maid of Honor. However, VF reports this shouldn't come across as a burn or diss to Middleton at all. Rather, Harry and Markle are just trying to do their sister-in-law a solid.
A source explained, "They [Harry and Meghan] just want Kate to be able to enjoy the day and not worry about anything. Harry has said there's no pressure on her to do anything. They know Kate will have her hands full."
Of course, Prince William is expected to be Prince Harry's best man, because, duh.
Rumors also suggest Prince George will serve as a page boy and Princess Charlotte might appear as the flower girl. Say it with me now... AWwWw!
Wherever you are Kate and Meghan, the world and I are so excited for you! This is going to be a truly wild next few weeks, but if anyone is up for it, it's gotta be you guys.
God save the Queen and also her granddaughter-in-laws.
Check out the entire Gen Why series and other videos on Facebook and the Bustle app across Apple TV, Roku, and Amazon Fire TV.