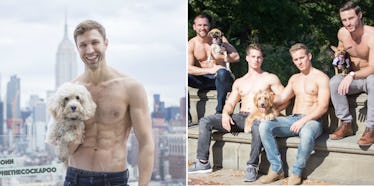 This Steamy "Hot Dudes With Dogs" Calendar Goes Toward A Great Cause, So Sign Me Up
Dogs and dudes? Sign me up. Life can be pretty ruff, but in my opinion, there's truly nothing an adorable pup can't solve. On any given day, you may be cuddling with your significant other or the fluff you call your best friend. Let's be honest: That pug or super affectionate golden retriever is a much sweeter companion than most of the humans in your life, anyway. Seriously, who needs relationships when you can have all the puppy love in the world, or at least this "Hot Dudes With Dogs" calendar? It goes toward a great cause, and will look pretty spectacular in your apartment.
Is it getting hot in here? With this calendar on your wall, your life is guaranteed to be just a bit more steamy. Think about all of the thirst traps you've posted on Instagram, and how fire your feed would be if your fluff made more of an appearance. Essentially, this calendar is bringing a new pup and beautiful person into your life for 12 months starting in 2019.
Now, you may be wondering why you need a calendar. After all, you have one in your phone and probably could put that money into your morning coffee fund. This purchase isn't just about keeping track of your priorities, though. With a portion of the proceeds going toward helping animals find loving homes, you'll want to press that "Add to Cart" button ASAP.
What's the deal on the "Hot Dudes With Dogs" calendar?
The company, Hot Dudes With Dogs, is releasing its first ever calendar for 2019, featuring some of New York City's finest dudes and pups. Seriously, these dogs just seem like they're meant to be in the spotlight, and I'll now be taking all of my cues from them on how to pose for my own pics on social media.
These hot dudes and dogs are clearly quite adorable, but what exactly makes them so paw-some? Well, every fluff you can find is actually from a shelter or an influencer. The calendar was created by the same person behind the official Instagram account @hotdudeswithdogs. So, be sure to give that account a follow, and probably the dogs and dudes, too, for even more cuteness when you need it the most.
Where can you purchase one?
The "Hot Dudes With Dogs" calendar will be able available for purchase on Amazon or the Hot Dudes With Dogs website for just $15.99. (That's a pretty good deal, in my personal opinion, for all of that puppy love!) A portion of the proceeds will go to Animal Haven, which is a non-profit, no-kill animal shelter located in NYC. This calendar is truly part of a life-changing cause. *Cue the tears.*
Some of us would adopt every single one of those animals if we had the space in our apartments. But for now, purchasing a calendar and maybe supporting the cause in other ways will just have to do. You already know exactly where you'll hang such a meaningful work of art on your wall.
How else can you support the cause?
Buying a "Hot Dudes With Dogs" calendar is a great start when it comes to helping this cause. But, there are also a ton of other ways you can show the pups some love and support if you're feeling like you need to do more.
Maybe you and your roommate have thought about getting a dog, or you just have some extra time on your hands. Adopting a rescue is a really good option because there's always a sweet canine in need of a loving home. You could also choose to volunteer at a local shelter during the afternoons, if you're not quite ready for the responsibility that comes with having your own pup. Truth is, there are plenty of things you need to know before bringing a pet into your life — and when you're ready, you'll love hanging with your new furry friend.
Unfortunately, dog adoptions don't come with hot dudes. So, still snag that calendar, OK? There's plenty of room in your budget for those abs and an amazing cause.