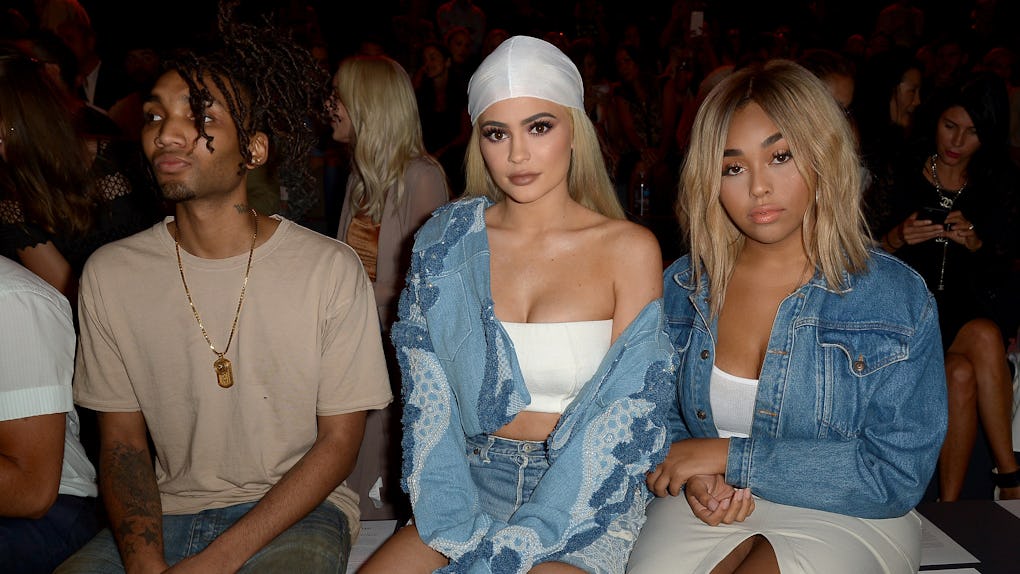 Gustavo Caballero/Getty Images Entertainment/Getty Images
This Clue About Kylie Jenner's Pregnancy Rumors From Jordyn Woods Has Fans Shook
Forget the "two front teeth," or even the "you" — all I want for Christmas is a confirmation about a Kardashian/Jenner pregnancy. Just one! Please, Santa! But lacking that, I'll take the clues as a sort of stocking stuffer. And the latest one is a doozy — this clue about Kylie Jenner's pregnancy from Jordyn Woods has fans everywhere convinced. Pass the eggnog and raise your glasses everyone!
Update: On Sunday, Feb. 4, Kylie Jenner confirmed her pregnancy in an Instagram post. She welcomed a daughter on Thursday, Feb. 1.
Earlier: Kylie Jenner has been keeping a pretty low profile and a pretty baggy wardrobe for the past few months, which can I just say aren't helping those rumors, Kylie, but the latest clue that the 20-year-old social media star has a bun in the oven is coming from someone else entirely. On Dec. 7, Jenner's BFF Jordyn Woods showed up to the WWD's annual Beauty, Inc. awards to accept the award for "Newsmaker of the Year" on her bestie's behalf.
According to People magazine, WWD staffer Sophia Chabbott shared a snapshot of Woods to her Instagram story showing Woods holding up Jenner's award. "Accepting the award for @kyliejenner @kyliejennercosmetics, @jordynwoods!" the caption over the shot read. Jenner herself? Nowhere in sight. Because if you're a few months pregnant and trying to hide it, a bunch of photographers at a high-profile event are the last people you want to be around — right?
And yeah, yeah, maybe Jenner just had the flu or something and her bestie stepped in to help her out. But fans aren't buying it.
I mean, honestly, I'm kind of convinced. Then again, maybe I'm just seeing what I want to believe.
The youngest member of the Kardashian-Jenner clan is rumored to be expecting her first child with boyfriend Travis Scott, and fans have been on high alert for any hint of confirmation since the news broke in late September. And Jenner hasn't exactly made it easy on us with the never-ending clues. She's been teasing us all for the past two months with Instas of her wearing baggy clothes, or seen only from the chest (or even neck!) up. Not a single member of her family has been willing to either confirm or deny the rumors. And I swear she's actively taunting us: she's been posting suspicious Snapchats, including literal buns in ovens on social media. At this point, we'll only know what's going on when she shows up with a tiny Jenner physically in her arms. Come on, Kylie, you're killing us here!
Kylie Jenner isn't the only member of the Kardashiclan who's been teasing us with a maybe-baby. Her big sis Khloé Kardashian is also rumored to be pregnant, with her NBA player boyfriend Tristan Thompson. The rumors about her broke only shortly after the rumors about Kylie, and, just like her little sis, Khloé has been keeping silent on any confirmation or denial. And oh man, being an adept social media tease must run in the family DNA. Khloé has been taunting us too, posting an entire series of posed, staged shots with her arms folded over her belly. Almost like she's hiding a pregnancy, wouldn't you think?
Basically, our only consolation at this point is Kim — who we know for a fact is having a baby, because she had the decency to actually tell us. Thank you, Kim. I knew we could rely on you. Kim Kardashian confirmed last month that she's expecting baby No. 3 with husband Kanye West via a surrogate, and threw a big, "Tea For 3" themed baby shower, filled with cherry blossoms and cocktail dresses. (It was adorable.)
But her sisters haven't been so forthcoming.
Thankfully, there's hope — there's an ongoing rumor that both Kylie Jenner and Khloé Kardashian will confirm their pregnancies with the unveiling of the annual Kardashian Kristmas Kard, and man, all I can say is I hope so. All this back and forth is wearing me out.