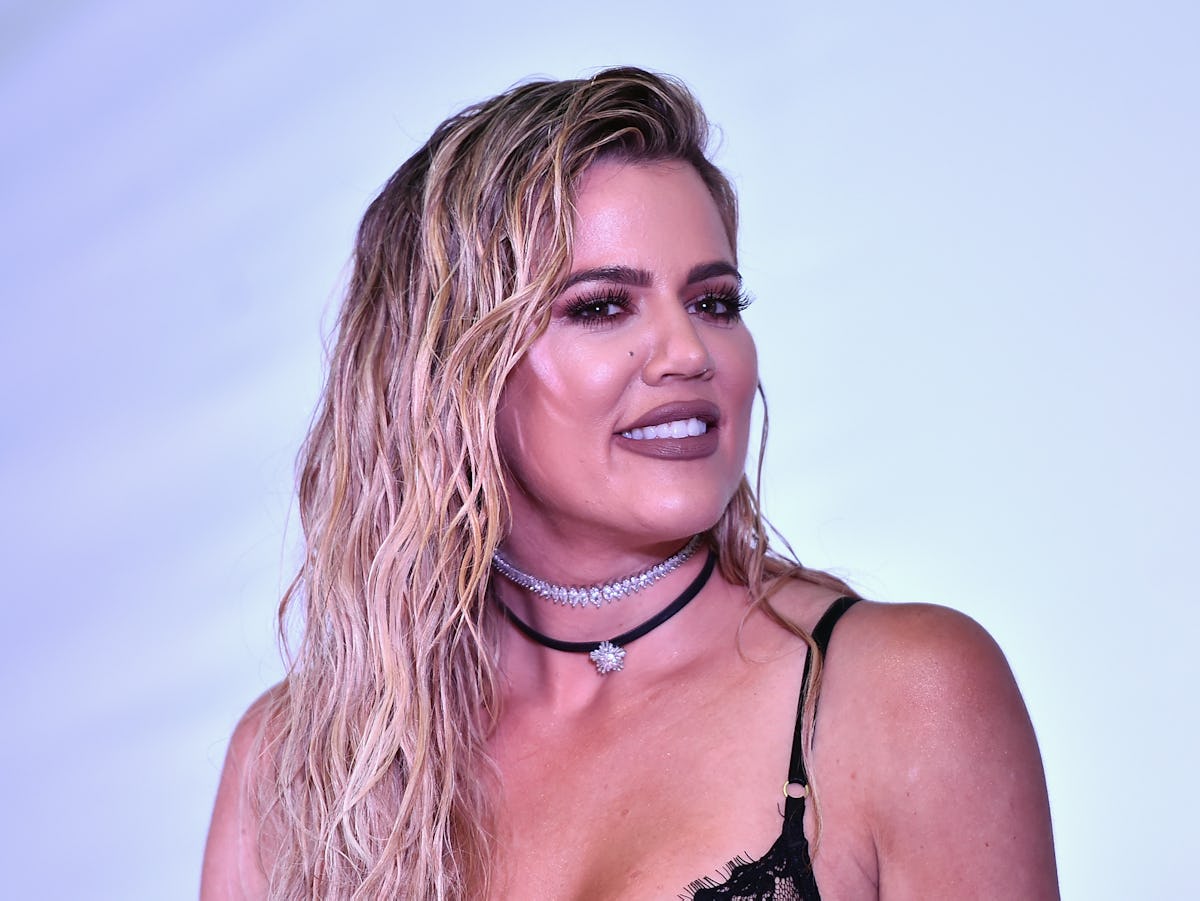 Khloe Kardashian's Latest Instagram Post Might Be Another Huge Pregnancy Clue
Alberto E. Rodriguez/Getty Images Entertainment/Getty Images
There's no stopping the Kardashian sisters. When rumors swirl and fans grow even more curious than they ever thought possible, the reality starlets continue to add fuel to the fire. Khloé Kardashian's latest Instagram post might be telling of her pregnancy status, and our interest is certainly piqued.
UPDATE: On Dec. 20, Khloe Kardashian confirmed that she is expecting a baby with Tristan Thompson in an Instagram post.
EARLIER: Everything is on full display in the Kardashian's life... except her baby bump. She is definitely no stranger to showing off sexy footage on her social media pages, but isn't it rather odd that the majority of her recent photos on Instagram have been shot from the waist up? Her latest shot is an ode to baby sis Kylie Jenner, as Kardashian is wearing a heather grey sports bra from King Kylie's line. If that isn't a double whammy — a strategically positioned photo wearing something created by the also potentially pregnant Kylie Jenner — I'm not sure what is.
One would assume that Kardashian's heather gray sports bra, or her baby blue one, would be a perfect opportunity to make use of a full-body shot. But, she chose to take the up-close-and-personal head shot instead. Isn't that an interesting choice, Ms. Kardashian? Is there something fans aren't supposed to see?
Khloé seems to be quite enamored with teasing everyone visiting her page. Earlier this week, she was in a salmon-hued top sporting the same pose. What are you trying to tell us (or not tell us), Khloé Queen of the Head Shot?
Fans are definitely sensing that there is a reason Kardashian's new favorite pose is purposely avoiding her midriff area. This could be a clue about her pregnancy status.
Keeping up with this maybe-pregnant Kardashian is certainly not an easy task. Just when fans think they've cracked the code, they find recent full-body photos rocking a sexy style, like the one similar to the pose she struck in the blue dress she wore for Kim's baby shower. Man, trying to figure this out might as well be like trying to uncover the Da Vinci code.
So if fans cannot analyze the star's selfies and such, they'll go to the next best thing. Let's take a look at her adorable Christmas post. Momager extraordinaire Kris Jenner gifted her daughter with an adorable gingerbread house (as moms typically do during this time of the year) with one sweet addition: her puppy. In the videos shared on Kardashian's Snapchat story on Friday, Dec. 1, she told her followers:
Let me tell you how cute my mom is. Look at this gingerbread house — she added Gabbana! And look, they put a little dog. I mean, how cute is my mom and the bakery?
Well, isn't that something? Is Gabbana going to be the only baby Kardashian and her boyfriend Tristan Thompson will flaunt... or will there be a new addition? Is this a way of throwing us off? If so, curious fans are not here for it — they're going to analyze it to death until some obscure meaning is brought to light. Good luck on social until you confirm or deny the pregnancy, Koko.
If all else fails, fans will jump ship and look to the other sisters for clues. Kim K is certainly one to drop major hints — like she did with the highly-anticipated Kardashian family holiday card — so perhaps she is the best place to turn if you're looking for a few clues. In my family, if you want to know a secret, you go to my cousin Johnny. Maybe Kim is the Johnny of the group? (Please Kim, help curious fans out.)
Looks like everyone is going to have to hang tight and keep their eyes on social media if they want the 4-1-1. Koko and Kylie — give everyone a Christmas miracle and just let them know what's up.
Check out the entire Gen Why series and other videos on Facebook and the Bustle app across Apple TV, Roku, and Amazon Fire TV.