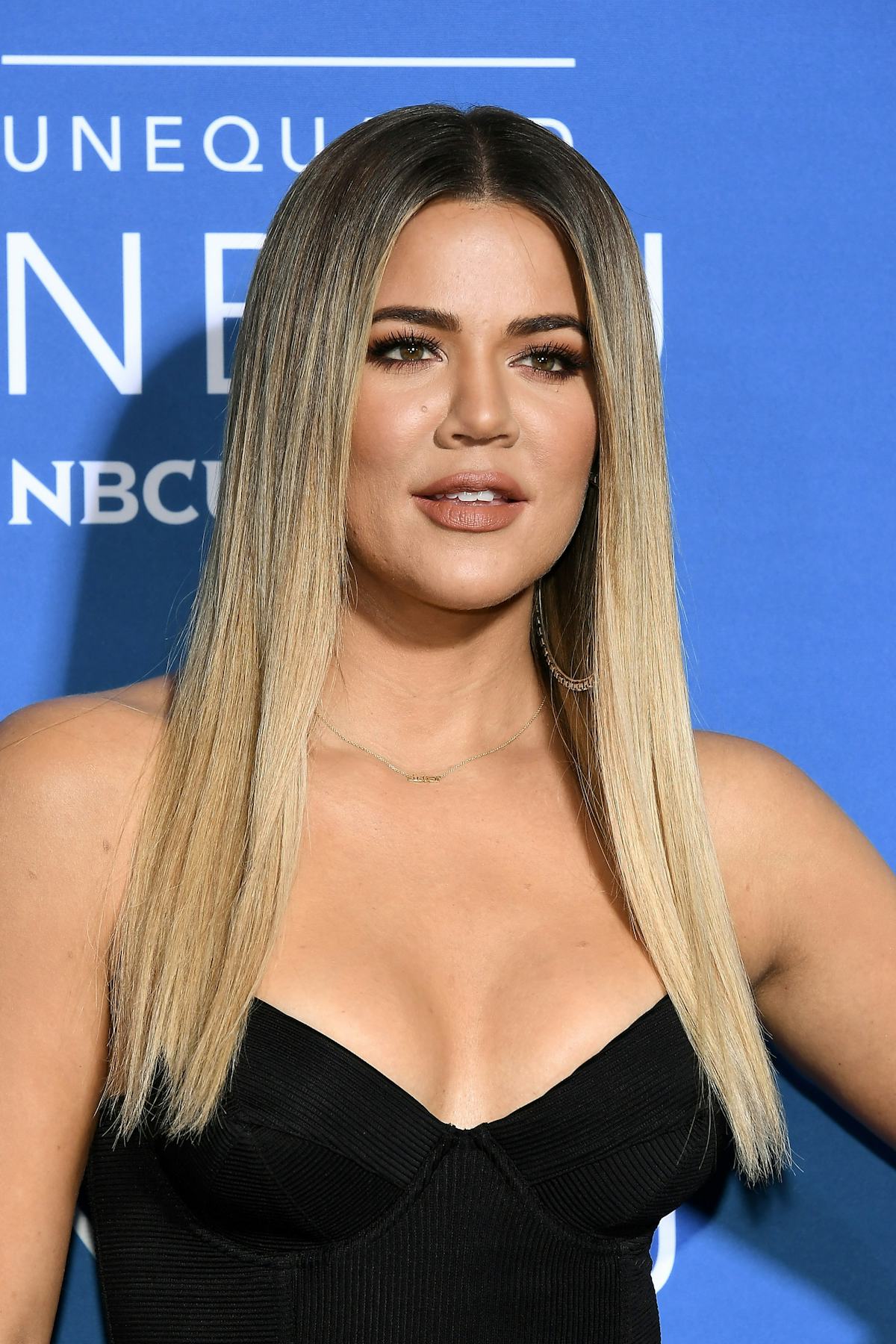 This Tiny Detail In Khloé Kardashian's Gingerbread House Will Make You Swoon
Dia Dipasupil/Getty Images Entertainment/Getty Images
If you follow Khloé Kardashian on Snapchat, then you probably know that she regularly shows her followers all of her enviable home décor. Just last week she shared videos on Snapchat as she decorated her and boyfriend Tristan Thompson's Cleveland home for the holiday season, and her Christmas decorations will give major holiday inspiration. Kardashian has added a new piece to the mix, and this photo of Khloé Kardashian's gingerbread house shows just how important the little details are.
The allegedly-pregnant Kardashian showed off the gingerbread house gifted to her from mom, Kris Jenner — and there was not one detail left out. One extremely adorable detail was the inclusion of Gabbana, Kardashian's Labrador. Jenner made sure to include the family pet's name on the roof of the gingerbread house where "Merry Christmas" was written, as well as including a cookie in the shape of Gabbana (adorable).
In the videos shared on Kardashian's Snapchat story on Friday, Dec. 1, she toured her followers around the seasonal confection as she said:
Let me tell you how cute my mom is. Look at this gingerbread house — she added Gabbana! And look, they put a little dog. I mean, how cute is my mom and the bakery?
Very cute, Khloé, very cute. The sparkly, white-frosted gingerbread house was the very definition of festive all-around.
Gabanna got center billing on the Kardashian-Thompson gingerbread house.
She was even repping in the Gingerbread House with her very own gingerbread dog.
Khloé and Tristan got some love too, though
It looks like this seasonal sweet treat is perfect for the allegedly-expectant Kardashian, her NBA boyfriend Tristan Thompson, and their beloved pooch. Kardashian took Gabbana into her home in 2015 when Kris and Caitlyn Jenner split, according to US Weekly. Before the split, Gabbana was a family dog, and Kardashian, being the animal-lover that she is, decided to take sole custody of Gabbana during that difficult time.
It looks like Gabbana still holds a special place in Kris Jenner's heart, thanks to the multiple nods to the adorable pooch throughout the gingerbread house that Jenner sent to Kardashian and Thompson.
Jenner must have passed down her affinity for festive decorations because Kardashian has been flaunting her flare for décor and seasonal touches all over Snapchat. As soon as Thanksgiving wrapped up, Kardashian got right into the holiday spirit.
Kardashian began transforming her Cleveland home, which she shares with Thompson (who plays for the Cleveland Cavaliers) into a golden winter wonderland. She posted pictures to her Snapchat of a beautiful Christmas tree complete with white twinkling lights, and she captioned it, "The beginning." Then she shared a Snap of so many gorgeous gold ornaments with which to decorate the tree.
It looks like Kardashian feels right at home in the midwest with Gabbana and Thompson, because she posted a picture of more trees (one in gold, of course) with Geofilter that read "Khloé in Cleveland."
"Khloé in Cleveland."
Khloé isn't the only the Kardashian sister getting into the holiday spirit. Kim Kardashian West shared a photo on her Twitter page on Friday, Dec. 1 of her youngest child Saint West surrounded by all sorts of Christmas presents, with a giant Christmas tree just entering the other side of the frame. It's seriously adorable, and it is apparently just the beginning — because she captioned it "25 DAYS OF CHRISTMAS," which means that you can expect even more cuteness this holiday season.
From the looks of it, Khloé and Kim definitely have their holiday spirit going strong this season.
With all of the festive goings-on in all the Kardashian households, it seems like Kris Jenner must have passed down a knack for celebrating the holiday season in style. Lucky for us, we can take to Snapchat and Twitter and borrow a little Kardashian holiday decoration inspiration.
Check out the entire Gen Why series and other videos on Facebook and the Bustle app across Apple TV, Roku, and Amazon Fire TV.