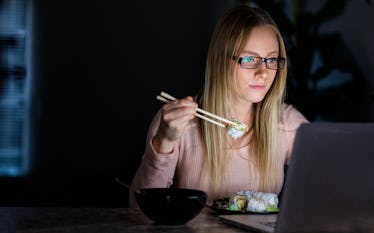 This Black Friday 2017 Grubhub Deal Will Make You Forget About Thanksgiving Leftovers
They say the holidays are the most wonderful time of the year, and the expression is especially true if you're hungry. How exciting is it knowing you're within reach of a delicious turkey dinner and all-pumpkin dessert? Get ready to share the love of food because this Grubhub Black Friday 2017 deal will put you in a generous spirit, just in time for the holiday season.
A PR rep for Grubhub tells Elite Daily that customers in search of gift cards are in for quite a treat. From Black Friday to Cyber Monday, hungry foodies who are shopping for a present for their friends and family will be rewarded with a gift of their own. For every $100 you spend on Grubhub e-gift cards, you're rewarded with a $20 Grubhub gift card for yourself. Hallelujah.
Basically, while checking people off your Christmas list, you'll be able to plan a cozy evening at home with your favorite taco order. It's a win-win situation for everyone involved. This time of year is known for miracles, so count Grubhub's treat among one of those can't-believe-it moments. Grubhub's PR rep also tells us that there is a limit of five cards per customer, so purchase wisely.
The food delivery system is a saving grace on those nights where your fridge is empty and the walk to the grocery store is too daunting. Who wouldn't love a gift card? Make like good 'ol Saint Nick and get busy this Black Friday. With gift card face plates this adorable and festive, it's going to be even harder to deny yourself (and your loved ones) this fun gift.
Head online to Grubhub's website and click "purchase a gift card" to start your order. Even better? There are no expiration dates. If that new pizza place up the block isn't going to open until spring 2018, you don't have to rush and spend your card elsewhere — hang onto it whenever you're ready to make a purchase.
Chances are, if you're ordering your gift cards from your computer, you're keen on spending Black Friday on the couch in your flannel jammies (no judgment, sometimes the stores can get too hectic). So if you're ready to score some deals from the comfort of home this season, here's how to plan an epic Black Friday stay-at-home shopping spree.
First thing's first, you're going to need to hydrate. It can be a long day scrolling through the internet in search of the best deals, so refreshments are obviously in order. There are a bunch of hot chocolate recipes — that are vegan-friendly — that'll make time cozying on the couch extra delightful. Vegan Unicorn Hot Chocolate? That sounds like a must for online shopping.
Step two: Enjoy the process. The holidays can definitely be an overwhelming time of the year, and Black Friday is basically all about indulgence, so it's easy to feel anxious when the calendar reaches November and December. Experts suggest how to get people out of their holiday funk, and you can do the same by decorating your house according to your favorite childhood décor. You already have that wish list and shopping list, but also try making a gratitude list this year while you're in the middle of online shopping — it'll keep everything in perspective.
Lastly: Don't be afraid to treat yourself. If you're craving those Dunkin' Donut holiday-cookie inspired treats, grab a few before you binge on Black Friday deals. Don't miss out on a festive Starbucks drink like the Chestnut Praline Latte, Caramel Brulée Latte, or Peppermint Mocha. If you're going to be inside, you might as well celebrate — heck, get some holiday tunes on while you're at it (and listen to Mariah Carey as much as you want).
So if you're in need of a good present for your city-dwelling besties, a Grubhub gift card is obviously the way to their hearts... and yours, too.
Check out the entire Gen Why series and other videos on Facebook and the Bustle app across Apple TV, Roku, and Amazon Fire TV.