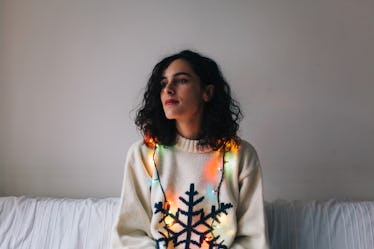 6 Ways To Feel Happier Around The Holidays When Stress Runs High, According To Experts
When midnight strikes on Nov. 1, the internet says "so long" to jack-o'-lanterns, costume makeup, and miniature candy bars like clockwork. The day after All Hallows' Eve is the unofficial kickoff to what has become known as the most wonderful time of the year. But trust me, you're not alone if, amidst all the excitement, you're on the sidelines thinking, "Why do I get sad around the holidays?" Not everyone goes into Christmahanakwanzika feeling merry and bright, and if you're prone to feeling more Scrooge-like than celebratory this year, there are a couple of ways to get you in the mood.
Sure, holiday season sounds wonderful if you're looking at it from face value. Thanksgiving gives you the green light to wear stretchy dress pants and indulge in seconds, even thirds of every course from appetizers to desserts, while Christmas includes exchanging gifts, drinking hot cocoa, and singing carols. All the warm, fuzzy feels of commercial holidays are meant to be enjoyed and shared with loved ones, but for someone who, let's say, isn't seeing eye-to-eye with a family member, or has a small budget to work with for buying gifts, the holidays might not be such a joy.
The thing to remember is, it's — normal, even — to feel a little meh when holiday season takes over your social feed and favorite radio stations. After all, even Rudolph had his reservations at first. Rude uncles and material things aside, the holidays are meant to bring family and friends together to celebrate this beautiful, sometimes melodramatic, thing called life. Try your best to push all of the inevitable stressors aside, and reference these tips on how to be happier during the holidays when you feel yourself giving into the slump.