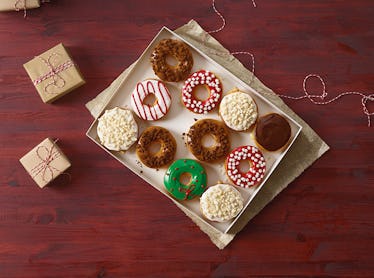 Dunkin' Donuts New Holiday Flavors Taste Like Christmas Cookies & Here's When To Get Them
Morning meals (AKA breakfast) often get nixed in favor of oh, getting to work or school on time. Personally, I'm in a very committed relationship with my snooze button — and most days, I don't have time to do much of anything in the a.m., since I give myself about 12 free minutes before I have to be at work. After hearing about Dunkin' Donuts' new holiday doughnuts, I'm thinking of reconsidering a breakfast-less existence... and you should, too. Seriously, mark down on your calendar when Dunkin' Donuts holiday flavors will be here, because you are not going to want to miss them.
Do I have you hopping on the breakfast train yet? More specifically, Dunkin' Donuts holiday-flavored donuts for your a.m. eats? Well, you have a little time to practice actually waking up with your alarm, because new flavors, like the Frosted Sugar Cookie Donut and Gingerbread Cookie Donut, are expected to arrive in Dunkin' Donuts stores by Nov. 20, according to a press release sent to Elite Daily from Dunkin' Donuts.
By Nov. 20, you'll be able to enjoy the cookie-inspired donuts, as well as the Snowflake Sprinkle Donut and Munchkins donut holes. So, what will you get when you make a pre-work stop at Dunkin' Donuts on Nov. 20?
According to the press release sent to Elite Daily from Dunkin' Donuts, the Frosted Sugar Cookie Donut is stuffed with cookie dough-flavored filling, topped with white frosting and frosted sugar cookie crumbles. I know, I know, how'd we get so luck to have a delicacy like this exist? Plus, since it's a donut, it's a totally acceptable breakfast.
The Gingerbread Cookie Donut is a caramel-frosted donut, and then it's topped with (you guessed it) gingerbread cookie crumbles. You might even beat your alarm to the punch when you know you have this gingerbread creation waiting for your breakfast.
The Snowflake Sprinkle donut is a red-frosted donut topped with special snowflake sprinkles. If you're into tinier treats, you can opt Snowflake Sprinkle Munchkins, which are chocolate-glazed donut holes rolled in snowflake sprinkles.
There's really no shortage of options when it comes to getting yourself a festive breakfast at Dunkin' Donuts this holiday season.
You're likely going to need a beverage to wash down those delicious holiday flavors. Luckily, Dunkin' is an old pro when it comes to the seasonal sip game. The donut chain is bringing back two classic holiday favorites: Peppermint Mocha and Brown Sugar Cinnamon flavored coffees. You can get these holiday flavors hot or iced (yay!), and you can also expect them to be in Dunkin' Donuts stores by Nov. 20.
A classic coffee at Dunkin' also gets the holiday treatment this season with the brand's "Joy" cups. You're probably familiar with this Dunkin' tradition, since they've been implementing these festive cups for quite awhile. According to Dunkin Donuts, this year's version will use seasonal graphics, such as peppermints, snowflakes, holly leaves, and holiday trees, in order to "stir up the warm, nostalgic feelings associated with this special time of year." Sounds like Dunkin' is staying true to the "Joy" that's emblazoned on their holiday cups.
So, now that you know that Dunkin' Donuts has nearly perfected the art of providing holiday flavors that will add cheer to your breakfasts, you might just become a morning person from now until the new year. The early bird gets the Frosted Sugar Cookie Donut and Peppermint Mocha.
Check out the entire Gen Why series and other videos on Facebook and the Bustle app across Apple TV, Roku, and Amazon Fire TV.