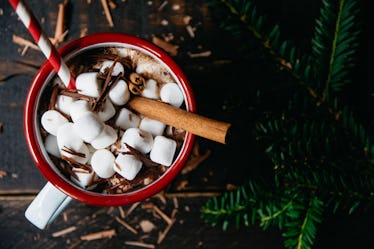 10 Vegan Hot Chocolate Recipes That'll Keep You Cozy & Warm All Winter Long
When you're living that plant-based life, or you're simply someone who has to deal with a grueling dairy intolerance, milk is a major no-no, and that can get tricky around the holidays. Sipping hot cocoa by the crackling fire on a brisk December evening is is the quintessential, Pinterest-worthy, holiday snapshot, but thankfully, there are a ton of vegan hot chocolate recipes at your disposal if cow's milk is a can't-do for your lifestyle.
Personally, hot chocolate has always been hit or miss for me. I've always liked the idea of ladling steaming, creamy hot cocoa into a giant-sized mug and watching snow fall and blanket the world outside my window. It sounds super Hallmark, but real-life Julia would only drink half of an average-sized cup and compensate for the second half with a fistful of marshmallows.
Ironically enough, the second I cut out dairy from my diet, I've since been finding myself craving hot chocolate around the clock as the cherry on top of all the holiday celebrations I have a hand in hosting this year. Fortunately, for those of us just tapping into plant-based alternatives, there are a slew of options out there to help vegans sip on some hot cocoa sans dairy, or any other kinds of animal products (in other words: watch the whip). Here are a few vegan hot chocolate recipes to experiment with over the holidays.