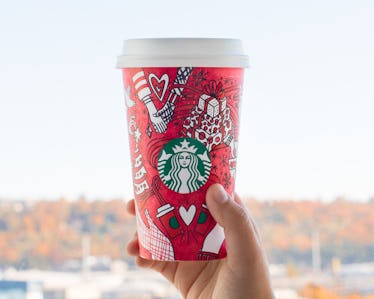 Starbucks' Toffee Almondmilk Hot Chocolate Isn't Dairy Free, But Here's How You Can Change That
You know the holiday season has officially arrived when Starbucks slowly starts rolling out their holiday cups and drinks for the winter. I mean, c'mon, you know you smiled at least a little bit when you had your first red-and-white cup sighting of the year. I know I did. I'm always excited to see what new holiday drink concoctions Starbucks is bringing to the table, and to my delight, the coffee brewers created a dairy-free holiday drink for customers that prefer plant-based milk! But is Starbucks' Toffee Almondmilk Hot Chocolate actually dairy free?
Sadly, not completely. But not to worry, because one minor adjustment to your order will make it completely dairy free for all you lactose-intolerants and vegans out there.
The Toffee Almondmilk Hot Chocolate is available to enjoy at Starbucks locations nationwide starting on the morning of Nov. 21 — just in time for you to test out over the long Thanksgiving weekend. In a press release about the drink, Starbucks gave the details of what to expect out of this delicious beverage. To make the treat, your barista starts with steamed Almondmilk, adds mocha sauce and toffee nut syrup, and finishes the drink with whipped cream and Caramel Brulée topping.
If you read the list of ingredients carefully enough, you already know what you have to do to make the drink completely dairy free: The only thing you'll have to omit is the whipped cream. So, any non-dairy eaters and vegans will sadly have to bypass the topping — and you can do so by saying "hold the whip!" after your order, per Starbucks' suggestion.
As mentioned earlier, the drink will be available for purchase beginning on Nov. 21. A tall, 12 oz Toffee Almondmilk Hot Chocolate will cost you anywhere from $3.25 to $3.75, depending on where your nearest Starbucks store is located. And if you try the new drink and fall seriously in love, you're in luck! The drink won't be only a holiday exclusive, but is simply debuting during the holiday season. This means it'll be available all year round! So for all you holiday junkies that like to listen to Christmas music every month, Starbucks will be providing you the perfect holiday-time drink to sip while jamming to "All I Want For Christmas Is You."
This new addition to the Starbucks Hot Chocolate menu joins a bunch of other fun flavor combos. You can also try out the classic Peppermint Hot Chocolate, a Snickerdoodle Hot Chocolate, or a Salted Caramel Hot Chocolate, all of which can be ordered during any time of year. I, for one, am relieved that the coffee roasting company is opting to keep some of their specialty flavors on their menu year-round. Call me basic, but when Starbucks runs out of Pumpkin Spice, it's a truly heartbreaking moment for me.
It's seriously awesome to see Starbucks adding some dairy free options to their specialty drink menus. When Starbucks added coconut milk as a substitute for regular milk I was completely over the moon. The almond milk trend has been on the rise for a few years now, and it's great to see a major chain like Starbucks embracing it. It certainly makes life easier if you have options, so the more the merrier.
I definitely can't wait to try the Toffee Almondmilk Hot Chocolate. Preferably after a cute ice-skating date at the ice rink in Central Park, followed by a couple of adult beverages over dinner. It's gonna be a good holiday season — I can already feel it. And what better way to kick it off than with a delicious hot chocolate?
Check out the entire Gen Why series and other videos on Facebook and the Bustle app across Apple TV, Roku, and Amazon Fire TV.