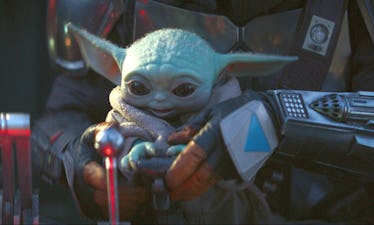 Here's The Cutest Baby Yoda Merch You Need To Grab Before It's Too Late
Lucasfilm
When Disney bought out Lucasfilm back in 2012, fans were worried that the House of Mouse and the Skywalker Dynasty wouldn't mix. But the two have something fundamental in common. In the words of Mel Brooks' dead-on parody Spaceballs: "Merchandising!" Brooks' idea of Spaceballs: The Flamethrower might not have come to pass, but Disney+'s first outing with Lucasfilm brought about something almost as good: the ever-memeable Baby Yoda. The sheer amount of Baby Yoda merch the Child has left in the wake of his debut on The Mandalorian is proof the company has struck gold.
But most of Baby Yoda's official merchandise isn't here yet. In a rare choice to prioritize secrecy over money, Disney+ kept Baby Yoda tightly under wraps. Nothing was commissioned ahead of the show's debut for the new character. Hasbro and others have since announced everything from official plushies to puzzles all coming in 2020.
But for the consumer who can't wait, Etsy is here for you. The e-commerce website focused on handmade creations has gone Baby Yoda crazy in the last two months, with everything a Mandalorian fan would want to express their love of The Child during the wait for Season 2 next fall.