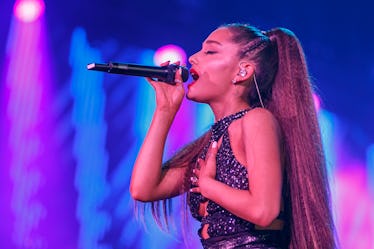 Ariana Grande Set The Record Straight On This Hilarious "Thank U, Next" Lyric Mix-Up
Rich Polk/Getty Images Entertainment/Getty Images
We've all misheard — and then repeated — a song lyric (or ten) in our lifetimes. In fact, such was the case on Nov. 3 when Ariana Grande released her long-anticipated song, "Thank U, Next." If you haven't heard it, the track is all about her previous relationships, from Big Sean to Pete Davidson, and closes with Grande sharing her decision to focus on her relationship with someone new — someone seemingly named "Aubrey." Of course, the lyric had Arianators abuzz, guessing who the mysterious person is. Seriously — the Ariana Grande "Thank U, Next" lyrics mix-up had Twitter in shambles.
It all started when the track hit Apple Music on Saturday evening. The streaming service uploaded the lyrics to the song, which included the line,
But this one gon' last / 'Cause her name is Aubrey.
The correct lyric, later shared on Twitter by Grande, is actually,
But this one gon' last / Cause her name is Ari.
So in reality, it's all about self-love and self-worth. However, some Twitter users didn't initially catch on and started sharing wild reactions to the "Aubrey" lyric.
Some wondered if Grande was announcing that she was dating someone named "Aubrey."
Others guessed that it was Aubrey "Drake" Graham.
Addressing the speculation, Grande took to Twitter to point out that she'd actually said "Ari," restating the lyrics in a series of tweets...
... which opened the floodgates for even more reactions.
So there you have it, folks. Grande isn't moving on to a new lover just yet. In fact, it seems like her relationship with her ex-fiancé Pete Davidson is just finally coming to a close. The same day "Thank U, Next" released, Nov. 3, he also addressed their relationship on Saturday Night Live, where he seemingly bid Grande goodbye. "I know some of you are curious about the break up, but the truth is it's nobody's business, and sometimes things just don't work out and that's OK," he said in a "Weekend Update" segment. "She's a wonderful, strong person, and I genuinely wish her all the happiness in the world." Elite Daily reached out to both Davidson's and Grande's teams for further comment on the remarks, but did not hear back by the time of publication.
The two started dating back in May and quickly got engaged just a month later. What ensued was a bunch of matching tattoos, public declarations of love, and even a pet pig, which made the pair seem destined to be together forever. Then their four-month engagement came crashing down just weeks ago, in the middle of October. "It was way too much too soon," a source close to Grande told People, seemingly referencing their fast-paced relationship, the sudden Sept. 7 death of the singer's ex-boyfriend Mac Miller, and her emotional exhaustion.
As a newly-single woman, Grande seems to be focusing and getting to know herself. Maybe she'll start dating again in the future, but for now, let's all just continue to jam to "Thank U, Next" in the meantime.