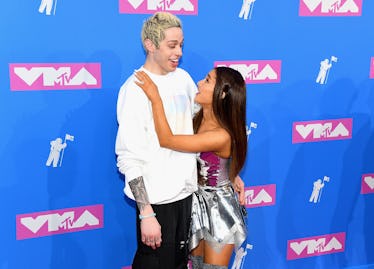 Pete Davidson Wished Ariana Grande Farewell on 'SNL', So I Guess It's Really Over
Nicholas Hunt/Getty Images Entertainment/Getty Images
Ariana Grande and Pete Davidson's relationship has been the ultimate will-they-or-won't-they roller coaster. From their sudden breakup to their subtle social media posts about each other, the pair has really been toying with fans' emotions, constantly sparking talks of whether the two will get back together or call it quits for good. Well, the latest chapter in their relationship is here — and it's not looking so good for a reunion. On Nov. 3, the comedian addressed their breakup in a Saturday Night Live segment, and Pete Davidson's comments on SNL about Ariana Grande pretty much seem like a farewell message to the pop singer.
Speaking about their breakup in the "Weekend Update" segment of Saturday Night Live, Davidson said: "I know some of you are curious about the break up, but the truth is it's nobody's business, and sometimes things just don't work out and that's OK. She's a wonderful, strong person, and I genuinely wish her all the happiness in the world." Elite Daily reached out to both Davidson's and Grande's teams for further comment on the remarks, but did not hear back by the time of publication.
Is that a goodbye, Pete?? Tears coming in 3, 2, 1...
I'm not kidding — grab a tissue for yourself and watch what he said around the 2:50 mark:
Meanwhile, Grande appears to be handling their breakup through her music. Just moments before SNL aired, she released a song titled "Thank U, Next," which is exactly what it sounds like: a breakup anthem. Although, Grande tweeted on Saturday that there is no bad blood in this song. She wrote, "no drags... no shade... just love, gratitude, acceptance, honesty, forgiveness ...and growth."
Throughout the four-minute song, the "No Tears Left to Cry" singer is heard reflecting on her relationships with Big Sean, Richard "Ricky" Alvarez, Mac Miller, and Davidson. She sings:
Thought I'd end up with Sean, but he wasn't a match/ Wrote some songs about Ricky, now I listen and laugh/ Even almost got married, and for Pete, I'm so thankful/ Wish I could say thank you to Malcolm, 'cause he was an angel.
Although the track is mostly about how her relationships didn't work out, it ends with Grande's decision to focus on her relationship with "Ari," and repeats "Thank u, next" in the chorus. Elite Daily reached out Grande's team for further comment on and clarification of the song lyrics, but did not hear back at the time of publication.
The track comes days after Davidson joked about marriage in a promo video for Saturday Night Live and Grande's since-deleted tweets in which she seemingly clapped back at him for it. Elite Daily reached out to Grande's team to confirm that her tweets were, in fact, in response to Davidson, but did not hear back by the time of publication. "For somebody who claims to hate relevancy u sure love clinging to it huh," Grande wrote in one tweet.
In another tweet, Grande said, "thank u, next," giving the impression that the relationship between the Sweetener singer and Davidson might've permanently gone sour — which is kinda sad news for fans because, at one point, a reconciliation really seemed in the cards for these two.
After the two split in the middle of October, sources close to the couple told People that they "still [planned] on spending time together" and that their relationship is "[not] totally over." Elite Daily reached out to Grande's team previously about these claims, but did not hear back by the time of publication. But the comments seemed legit. After all, they've got all of those matching tattoos and a pet pig for Pete's sake.
While it looks like things have certainly changed, at the end of the day, anything can happen. It's Pete and Ari's world, and I'm just living in it.