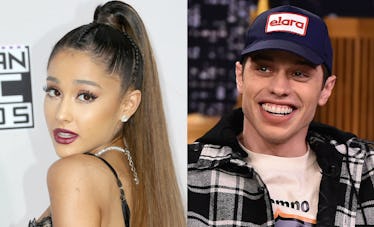 This Ariana Grande & Pete Davidson Update Could Mean They're Not Over For Good After All
Frederick M. Brown/Theo Wargo/Getty Images
Ariana Grande and Pete Davidson broke up... or did they??? No, they reportedly really did, but according to new reports, that could change in the future. In the midst of the Grandavidson breakup whirlwind, asking the question, "Are Ariana Grande and Pete Davidson really over?" apparently isn't a far-off ask. A source close to the couple told People that despite the fact that Grande reportedly gave her engagement ring back to Davidson — a move that makes things seem pretty final — they still plan on spending time together. Elite Daily reached out to Grande and Davidson's teams for comment on this new report, but did not hear back by the time of publication.
"Their engagement is off, but they still plan on spending time together," the source revealed. "It's not like they split and never plan on seeing each other again. They just decided to slow things down."
Wait... so does that mean they're broken up, or they're still together and just not engaged? Color me confused. The source then revealed that Grande felt too much of a rush to plan their wedding and that was partially the inspiration to call it off. "She realized that planning a wedding right now felt very rushed," they said. "It's not what she wants to do right now. She doesn't want to make any rushed decisions and has decided to take a step back instead."
The source also revealed a huge piece of info that could be encouraging to fans hoping for a reconciliation. "They totally could get back together because who knows with those two," they said. "Honestly, who knows — they were fully together on Saturday."
Reports of Grande and Davidson's breakup came on Sunday, Oct. 14, but this source maintains that the couple was still together as of Saturday, Oct. 13, which (perhaps not so coincidentally) is also the date that Grande was supposed to perform at a cancer benefit that would've marked her first performance since Mac Miller's death. She backed out of the performance for personal reasons, according to Scooter Braun (Grande's manager).
Grande still has all of her photos with Davidson up on her Instagram, so make of that what you will.
A second source stoked the reconciliation fire even more when they told People, "It's not totally over....with them, you never know." They continued, "The engagement being called off was very sudden. They put on this front of being so happy but there were lots of fights and struggles behind the scenes." All of this is... terribly muddy. I'm legitimately questioning if these two are actually still together and have simply (well, nothing about this is simple) decided not to get married just yet. They got engaged so fast, no one would blame them if they decided to just be together without the pressure of committing to forever.
According to TMZ, Grande has reportedly returned her almost $100,000 engagement ring to Davidson. Elite Daily reached out to Grande and Davidson's teams for comment, but did not hear back by the time of publication. Grande has also apparently been the one to keep the little pig they got together, Piggy Smallz (fantastic name).
Hopefully, fans of the couple will get some clarity soon from the stars, but the next time they'll most likely see Grande at a public event is when she performs during the "Very Wicked Halloween" concert celebrating the 15-year anniversary of Wicked on Oct. 29 on NBC.