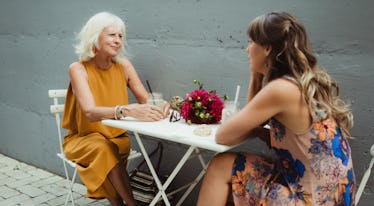 Moms Reveal The Most Important Advice About Being Single In Your 20s, So Take Notes
Your 20s are a tough time full of growth and huge life changes that seem to never end. Between school, dating, making friends, and figuring out your career, you've got a lot on your plate, and sometimes it might feel like you don't know what to do or where to go from here. But that's where a little guidance from your mom can come in handy — after all, moms always do seem to know best. (Seriously, how do they do it?!) That's why I sought out advice from moms about being single in your 20s — and they all shared some serious words of wisdom. After all, who better to help you figure out your life and your future than the women who have sacrificed so much to get you to where you are now, and who have watched you grow and evolve from day one?
If you need a little push in the right direction to become your best self, these moms have you covered. From putting yourself first and building up your self-confidence to traveling and learning as much as you can, here's some important, mom-approved advice that will make navigating your way through your 20s a much better experience.