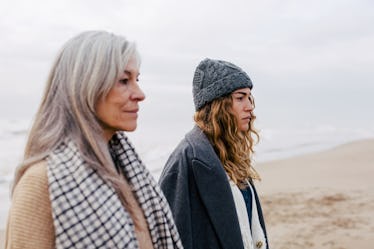 9 Moms Reveal Their Wisest Breakup Advice, & It's Honestly So Helpful
It's hardly a secret that moms can give some seriously revelatory advice. More often than not, the hard part is learning to actually listen to it. And despite my stubbornness when it comes to dating, there is no one I trust to give me solid advice more than my mother. There's just something about advice from moms about breakups that can really get you on the right track after a particularly difficult heartbreak.
And while talking with your friends and getting their input can certainly help too, let's face it — moms have been around a lot longer. And with age comes wisdom, so it's probably safe to say that most good mom advice packs a serious punch. Another great part about seeking dating advice from moms is that they've got tough love on lock. And even if you are hoping that they will tell you what you want to hear, they almost always know when it's time to serve up a reality check. I can't think of a more important time to get a dose of reality than during a breakup, because it's so easy to let the intensity of your emotions overshadow reality. Here is the best advice I've heard from some strong, loving, and wise mamas.