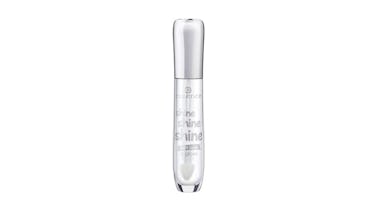 Everyone On Reddit Is Obsessed With This Super Shiny $3 Essence Clear Lip Gloss So I Need One ASAP
Searching for the best bargains in beauty? Look no further than Reddit, where the makeup-obsessed and skincare-savvy gather by the thousands to share their favorite deals and dupes. As we enter fall still favoring the dewy look over last year's matte liquid lipsticks, I'd like to draw your attention to one of the many beauty favorites receiving major praise within the MakeupAddiction subreddit: a $3 Essence clear lip gloss that will elevate your fall lewk for less than the price of your tall Pumpkin Spice Latte. Do I have your attention? I thought so.
Allure recently picked up on the fan favorite product after spotting a thread within the MakeupAddiction subreddit entitled: RAVE: The best (and cheapest) lipgloss in the entire world. A large claim, but the user insists that the Essence Shine Shine Shine Lip Gloss in shade "01 Behind The Scenes" ($3, ulta.com) is truly the clear gloss to end all others.
"I don't know why every single person on earth doesn't own the essence shine shine shine wet look lip gloss, in the shade 01 behind the scenes," begins the passionate post. "It is completely clear. It is so bouncy and thick but so shiny and it smells and tastes amazing! It lasts through a meal for me. It also doesn't fade or slide around when used on my eyelids. For 3 freaking dollars. I'm a ghoster but I literally created an account so that I could rave about it. I'd be curious to know if there is a cheaper lipgloss that can beat it."
A meal-proof, shiny lip that even doubles as an eye gloss? TBH, it sounds too good to be true. But as of now, the original user's post has received around 950 upvotes, so others clearly agree with the strong sentiments. The post also has received around 140 comments echoing the original praise.
"Yes. this is the best!" one commentor agreed. "I bought like 5 of them at once after i tried it! I was looking for clear lipgloss and everything was like $18-$20.. for clear lipgloss.. girl bye lol." I really feel this, because although I love a shiny, glossy lip, it's definitely hard to drop money on products that are, in a sense, basically invisible.
Apparently, fans of this gloss are so enamored that they actually think it should cost more, although they're definitely happy it doesn't: "Every gloss, cheap or high end, that I've tried leaves me wanting more in....honestly an hour. But this powerhouse fades into my lips after wearing off and looks like I've applied lip balm and feels that way too. When I need NATURAL NATURAL looking lips I apply a tiny bit and rub it in with my finger and it literally fills in my lip lines...... this gloss should cost more but you did not hear that from me!"
While the MakeupAddiction subreddit is intended to share beauty faves with others, some jokingly (or even seriously) noted that they didn't want word to spread about this great gloss, for fear it would become harder to find.
Me, to all the glossy-lipped guys and gals that have been hiding this major bargain from me for far too long:
"Shhh, keep it on the downlow lol. I enjoy this lip gloss and it is constantly sold out in stores at Ulta :(" said one nervous lip gloss lover. Another felt sure the hype would spark a price adjustment: "I feel like everyone praising NYX as a great drugstore brand led to them raising their prices FAR too high....we gotta keep essence in the dark."
While many love "01 Behind The Scenes" because a good clear gloss is so hard to find, the reviews have me tempted to try out the other six shades as well, which range from pearly pink to fire engine red:
I'm also very, very curious about the possibility of using this baby as an eye gloss, as the original poster claims to do. "I used to use Vaseline but gurl it slide EVERYWHERE and creased like crazy," they further elaborated when a confused user asked why someone might use gloss on the eyes. "I use a different tube for my eyes than for my lips, put it on the back of my hand and apply with my finger. I normally do it on bare eyelids but recently I've found that picking up some glitter shadow and then gloss prevents glitter fallout and looks gorgeous."
Please consider me officially sold. I'd say more, but I am quite literally about to leave my house and drive to Ulta to scoop up this gloss before word spreads. Thank you to the MakeupAddiction subreddit users for convincing me, yet again, that there's another beauty product out there that I cann't live without. This stuff gets me every time.