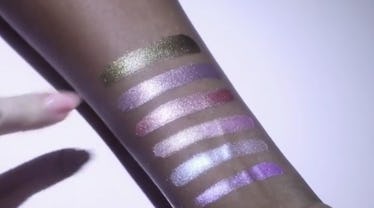 7 Actresses Wore This New Beauty Product To The Oscars & You Can Snag It Yourself
When it comes to awards shows, the Oscars reign supreme. They honor the best of the best in Hollywood and display some of the most innovative fashion and beauty inspiration around. This year, Glossier's Lidstar eye glow completely stole the spotlight thanks to its cool, glistening effect. Luckily, you don't have to wait to get your hands on this celebrity makeup artist staple. You can purchase it right now!
Surprise, surprise: this isn't Lidstar's first time on the red carpet. The Queen of all Queens, Beyoncé, wore the product to the Grammys this year, but as it was under embargo, it went largely unnoticed. If you didn't see what Bey wore to the ceremony, do yourself a favor and take a look now. Although she didn't walk the red carpet, she showed up mid-show and looked expectantly flawless in a head-to-toe black ensemble by Nicolas Jebran. Her dress, which featured a long train, had the coolest cutouts, and her hat was like a piece of modern art that no one could stop talking about.
And her beauty look, of course, was everything. Her hair was braided and pulled back into a low ponytail, and she wore a dusty purple lipstick that seemed to be made for her. Although she wore sunglasses for much of the ceremony, when she took them off, a shimmery sheen could be seen on her eyelids — and that same shimmery sheen has reappeared tonight on a whopping seven Oscars attendees.
We all know by now that Glossier is a beauty brand to be reckoned with. It just clinched $52 million in Series C funding, according to Forbes, and pretty much every celebrity and influencer seems to have one of their products in their vanity. But to have six huge influencers wear their new product to the biggest awards show of the year? That is beyond.
Allison Janney, Greta Gerwig, Tiffany Haddish, Maya Rudolph, Tracee Ellis Ross, Taraji P. Henson, and Salma Hayek — AKA some of the most incredible women on earth — all showed up with Glossier's new product shimmering on their lids, and it really just further cemented what I already knew: Glossier founder Emily Weiss is going to take over the world with her products that celebrate and are for all women. Girl power at its absolute finest.
Each of the celebs paired Lidstar with an equally glam look.
Allison Janney rocked Lidstar in Fawn, as well as Glossier's Cloud Paint in Dusk and Puff ($18; Glossier).
Taraji P. Henson also wore the Lidstar in Fawn, but sported the Glossier Cloud Paint in Haze on her cheeks.
Just look at how quick and easy this application by Henson's makeup artist, Ashunta Sheriff, is. No muss, no fuss, and no fingers required.
Thanks to makeup artist Lisa Storey, Tracee Ellis Ross wore Lidstar in Cub and Fawn (Fawn really seems to be the celeb favorite here). Ross also wore Boy Brow in Black ($16; glossier), Cloud Paint in Haze, and Haloscope highlighter in Topaz ($22; glossier).
Makeup artist Dionne Wynn applied Lidstar Herb and Moon to Tiffany Haddish. She also used Boy Brow in clear, Helioscope in Topaz, and Cloud Paint in Dusk and Puff.
Jenn Streicher, the makeup artist behind Greta Gerwig's glam, loves the new Lidstar product. Streicher applied a whopping three different Lidstar hues to Gerwig's lids: Moon, Slip, and Cub. She supported the look by applying Cloud Paint in Beam and Haloscope in Moonstone to her cheeks.
Salma Hayek also got in on the fun, thanks to makeup artist Matthew VanLeeuwen. Hayek wore the Lidstar in Slip on her eyes, and Cloud Paint in Beam on her cheeks. VanLeeuwen finished off the look by applying Haloscope in Quartz to the high points of Hayek's face and Boy Brow in Brown to her eyes.
Last, but certainly not least, Maya Rudolph sported the Lidstar in Cub. Makeup artist Molly R. Stern also applied Cloud Paint in Beam and Haloscope in Topaz to the star's cheeks, and finished off her brows with the Glossier Boy Brow in Brown.
It's no wonder that the Lidstars became a red carpet favorite. They have long-lasting, twelve hour wear. No touch ups necessary.
The six shimmering shades of Glossier's Lidstar ($18; glossier.com) are now available on their website. Simply apply the product to your lids with the applicator, blend out with your finger, and you're done.
This is sure to become a low-maintenance staple for any aspiring actress (and for those of us who just want to look as glam as one).