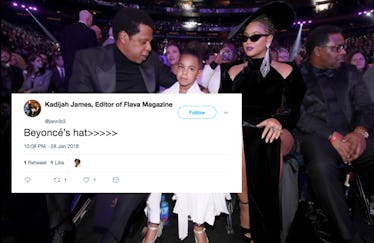 Beyoncé's Hat At The Grammys Is So Extra & Twitter Has Mixed Feelings
Christopher Polk/Getty Images Entertainment/Getty Images
Beyoncé's in the house, everyone! Our queen made an appearance at the 2018 Grammys, and one of her accessories is causing some commotion on Twitter. That's right: All of the tweets about Beyoncé's hat at the Grammys show total mixed reactions, but she still looks freaking fantastic. (Who are we kidding, though? Beyoncé looks like a goddess in just about anything she puts on — even a gigantic, oddly-shaped hat.)
So, yes, Bey is wearing a large hat in the audience that kind of resembles a satellite of some sort. However, some would call it "sculptural" (which it definitely is). As you can see, Beyoncé's large-and-in-charge hat compliments her moody outfit. According to People, the Lemonade singer is wearing a black velvet mock-neck, a cold shoulder gown with slits in the front, accented with huge diamond Lorraine Schwartz earrings (they're, like, pretty gigantic). Based off an Instagram post by stylebybeyonce, her dress is a custom by Nicolas Jebran.
According to Vogue, Jebran drew inspiration for the look from the Black Panther movement, and his goal was to convey the "spirit of vitality" with his creation. From her hat to her oversized jewelry, Bey's outfit is also reminiscent of her look in JAY-Z's "Family Feud" music video. In the vid, her outfits depict both good and evil, and her Grammy getup is just as mysterious. Speaking of JAY-Z, the rapper was spotted sitting with Beyoncé and Blue Ivy during the show. He were an all-black suit, and Blue were an all-white dress with silver shoes. The three of them sitting side by side is almost too much to handle.
As much as I love talking about the entire Knowles crew, let's talk about Beyoncé's hat (it's basically stealing the show). In case you forgot, it's a slanted black hat with an abnormally large circumference. In fact, it's so large that it might be blocking the views of people sitting behind her.
Even if Bey's hat was blocking some views, tons of Twitter users are still loving it.
You know what? I think I want it, too.
It's true: Beyoncé's hat does deserve a Grammy nomination.
Regardless of how big Bey's hat is, people are still totally loving it. But of course, haters gonna' hate, and this look is no exception.
Lots of people are relating her hat to a "church hat."
Others are calling it straight up ridiculous.
OK, OK. Even if you're confused by Bey's hat, you can't blame her for trying something new. She could be wearing literally anything on her head and still rock an iconic look, so really, she wins. Sorry, haters.
A look like this definitely wouldn't be missed on the red carpet, but unfortunately, Bey skipped out on that portion of the star-studded event. Both her and her hubby skipped the red carpet, and it's kind of a bummer. I would have liked to have gotten an up-close look on her dress. It's fine though. I guess when you're the kind and queen of the music industry, you can skip out on pretty much anything you want — including red carpet events. Sigh.
Of course, the couple has more to worry about than a red carpet. JAY-Z was nominated for eight awards at the Grammys (yes, eight). It's safe to say that while we were gawking over Bey's hat, the music-centric couple was hoping (and probably expecting) to take home the gold tonight. After listening to JAY-Z's 4:44, I'd expect a ton of wins, too.
Awards or not, we still can't help but respect the couple for always looking so damn good. Sure, you might argue that Beyoncé's Grammys hat was a bit much, but you have to admit that she totally pulled it off.
I still feel sorry for anyone who was sitting behind her, though.