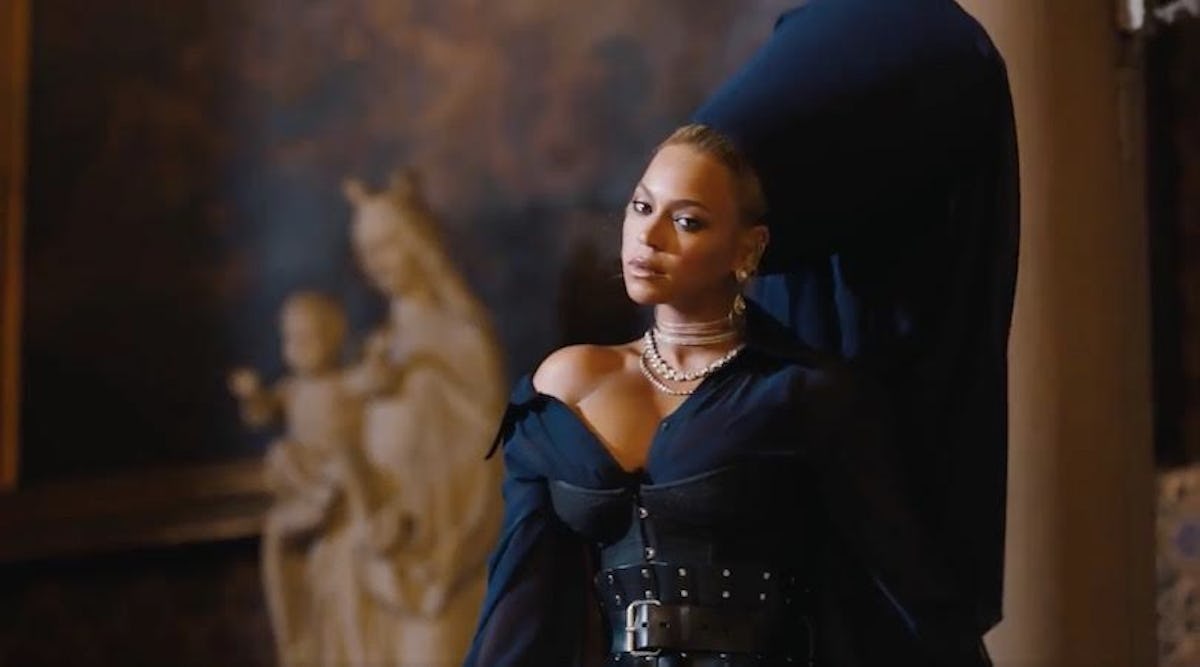 Beyoncé & Jay-Z's Fashion In "Family Feud" Visually Depicts Both Good & Evil
Tidal
JAY-Z's 4:44 album, which he released earlier this year, is, in part, a sonic admittance of his marital infidelity. And today, he released the music video for one of its most revelatory tracks featuring none other than his wife, Queen Bey, herself. Beyonce & JAY-Z's fashion in "Family Feud" are such integral parts of the video's overall symbolism that they more than deserve an analysis of their own as it relates to the project as a whole. Whoever thinks that fashion is simply a trivial and materialistic industry is sorely mistaken — clothing has the power to relay messages, ideas, and themes in brilliantly nuanced ways, while also contributing elements of gorgeous visual artistry. If you watched any of the videos for Beyonce's Lemonade album, on which she calls JAY-Z out for cheating, then you know what I'm talking about.
When Lemonade dropped in 2016, people immediately concluded that the song "Sorry," which mentions the now-famous "Becky with the good hair," revealed that JAY-Z had cheated on Beyoncé. "They sneaking out the back door/ He only want me when I'm not there/ He better call Becky with the good hair," she sings. (You'll probably remember the rumours that were swirling after the album's release that accused Rachel Roy of being Becky.)
And once 4:44 was released, it became pretty clear that their assumptions were right. In the title track, "4:44," JAY-Z raps "What good is a ménage à trois when you have a soulmate / You risked that for Blue?" As if that weren't incriminating enough, he references his infidelities again in "Family Feud," saying, "Yeah, I'll f--- up a good thing if you let me/Let me alone, Becky," which is clearly a direct response to "Sorry." Since 4:44's release, Jay-Z has also directly confirmed in various interviews that he cheated on Beyoncé, subsequently crushing any remaining faith I had in true love. Why, Jay, why?!
Taking all of this into account, I knew that the video for "Family Feud," which was teased in a clip by Tidal yesterday, would be pretty epic. It just dropped on TIDAL (they're running a free holiday promotion, so you can watch it now at no cost!) and it's a must-see, in more ways than one. After a lengthy scripted intro that felt like a mini movie and featured some of the most badass actresses around (more on that in a separate post), the music portion of the video begins with JAY-Z and Blue Ivy walking down the aisle of what appears to be a Catholic church. Blue is dressed in a white dress, which symbolizes innocence and purity, while JAY-Z wears a black suit with a white undershirt, which could represent a struggle between good and evil, right and wrong within him.
JAY-Z sits Blue down in a pew, and continues to walk down the aisle, before Beyoncé comes into view. She at the front of the church high up on the pulpit, looking down at JAY-Z as he walks towards her. She is dressed in all-black, which also represents mourning and could symbolize the death of the upholding of the holy vows that she and Jay took with one another. Although the pair have remained together despite the infidelity, JAY-Z did not uphold his vows to remain faithful to her. Beyoncé is also wearing a clerical headdress that appears to be a greatly exaggerated klobuk, which is worn by Catholic Bishops, monks, and hieromonks (a monk who is also a priest). It's as if she is looking down upon him and judging him for his wrongdoings.
The video then cuts to JAY-Z in a confessional booth, with Beyoncé sitting on the priest's side. In the confessional, she wears a black dress with enormous white sleeves that cause her to appear larger than life and almost look like angel wings. Angels are obviously good, heavenly creatures, so the reference would be fitting, if intentional. Large gold discs hang from her ears, and gold metallic plates are attached down the front of her dress. Gold is the color of royalty, so Beyoncé's adornments could represent her queen-like status.
It's clear that the fashion choices in the video were thought out and intentional. They help to add deeper layers to the meaning of "Family Feud" through historically significant styles and symbolic colors. Fashion is so powerful and is often underestimated as an art form and means of communication. Luckily, we have brilliant creatives like Beyoncé, JAY-Z, and Ava DuVernay, who directed the video, who speak its language.