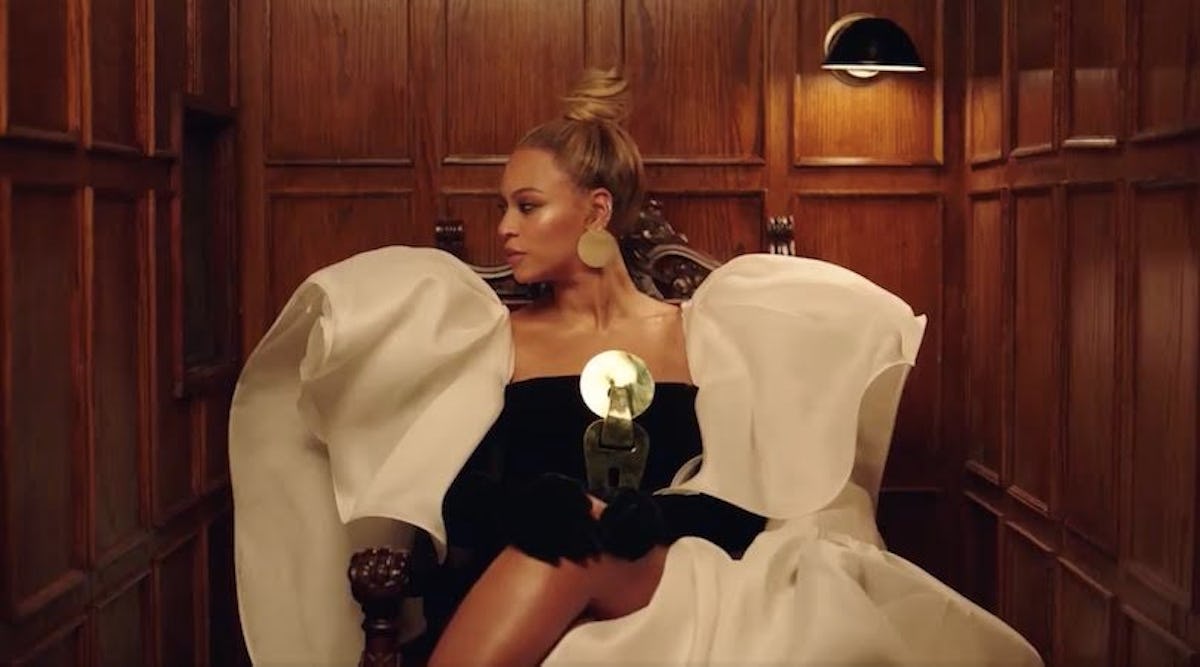 The Meaning Of JAY-Z's "Family Feud" Music Video Is Actually Really Deep
Tidal
IT'S HERE, you guys. JAY-Z dropped the music video for "Family Feud" and it is so freaking good that I don't know what we as a society did to deserve it. It features JAY-Z (obviously), Beyoncé (OMG, YES), and their daughter Blue Ivy (Un-freaking- real), Of course, there's a whole lotta drama. So, what exactly is the meaning of the "Family Feud" music video?
So glad that you asked.
Because the video had a bunch of intense pieces to it, it can be hard to process the whole thing in its entirety. So to help y'all figure out what exactly our boy JAY-Z is getting at, I've decided to split this into some important key parts.
For those of you who saw the teaser that Roc Nation put out into the world, you caught onto a few things right from the get-go.
We see JAY-Z walking into a church, holding hands with his daughter, Blue Ivy (looking adorable AF, by the way). We saw an unidentified man and a woman getting hot n' heavy together. We saw Beyoncé looking very Pope-esque, dressed in all black looking fierce, but also with a facial expression that was just a bit unnerving.
The teaser went on to show flashes of JAY-Z entering a confessional booth, with what seemed to be Beyoncé as his confessional priest, and the unidentified woman stabbing the man she was hooking up with in the back:
What did it all mean?
Well, the video has finally dropped and we were able to get some answers. And, while we can't know for sure what JAY-Z was getting at when creating this video, I think we can uncover a few truths by ourselves.
For anyone who's interested, you can watch the full video on Tidal here.
1. The unidentified couple in the video might be JAY-Z and "Becky."
Look, it's hard to watch the video and NOT think that the man and the woman getting real steamy are JAY-Z and the woman that he apparently had an affair with. Remember last year, when it was thought that JAY-Z was cheating on Beyoncé, possibly with designer Rachel Roy?
Nobody can forget Beyoncé's legendary lyrics to her song, "Sorry":
He only want me when I'm not there
He better call Becky with the good hair
To which everyone said, "Who the hell is Becky?"
And, when it was thought that Roy was "Becky" with the good hair, Roy posted this cryptic Instagram:
Plus, JAY-Z's lyrics to "Family Feud" certainly make it seem like this is the case. The lyrics go:
Yeah, I'll f*ck up a good thing if you let me
Let me alone Becky
And, if you noticed, the woman stabs the man literally in the back, which can be a symbol of someone betraying his trust of possibly keeping his affair a secret.
So, are the couple in the video a portrayal of JAY-Z and "Becky?"
A case for the FBI, indeed.
2. JAY-Z is confessing his sins to Beyoncé and asking for forgiveness.
A lot of people believe that JAY-Z's album, 4:44, is a response to Beyoncé's album, Lemonade, and, after watching the "Family Feud" music video, those people honestly might be right. In the video, we watch Beyoncé looking very much holier-than-thou (in what looks like a mixture of what the Pope wears and also what a celeb would walk down the red carpet wearing) and JAY-Z, on opposing sides of a confessional booth.
It seems to be pretty symbolic of JAY-Z admitting his faults and begging for forgiveness from a scorned Beyoncé. While we can't confirm it for sure, it seems pretty obvious that the center of this video is about JAY-Z trying to right his wrongs with Beyoncé, the wife in which he was unfaithful to.
3. JAY-Z is talking about the need for unity in the black community.
While there is a lot going on in this video, it's evident that the actors and actresses are at odds with a larger issue, and stress the need for some sort of solidarity. In the beginning of the video, a group of people are sitting at a table, and one character stresses the fact that nobody wins when the family feuds, much like the lyrics stress in the song.
So, whether or not JAY-Z put his all into this video as a sign of admitting his mistakes and infidelity, you have to admit that the video is incredible (and not just because Beyoncé is featured, either).