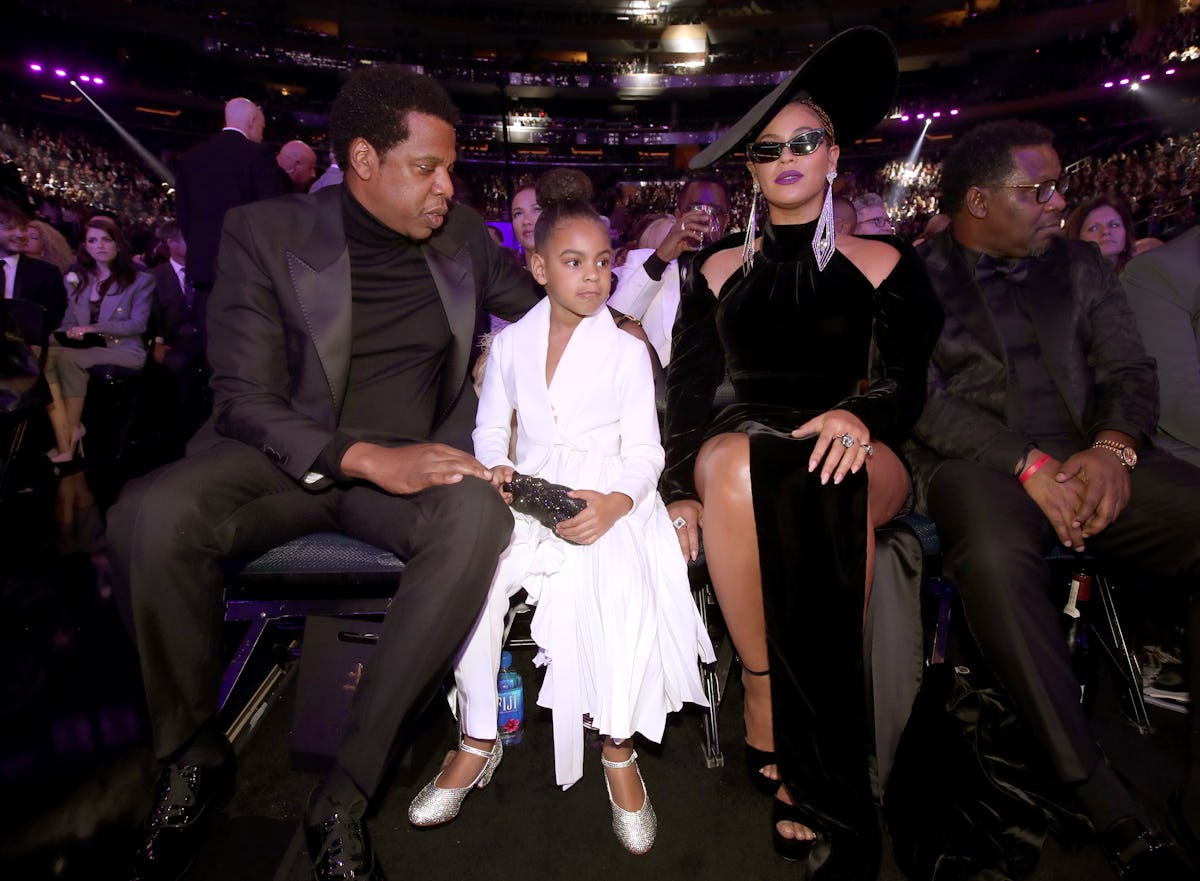 Beyonce's Grammys Look Is Larger Than Life, So It's Actually Perfect For Her
Christopher Polk/Getty Images Entertainment/Getty Images
All hail the Queen! Beyoncé arrived to the most important red carpet in the music business, and as expected, she is slaying the style game. Beyoncé's 2018 Grammys look is actually fit for a royal, because, duh. She basically is one. But, it also might look a little familiar — like something straight out of JAY-Z's "Family Feud" video, which was nominated for Best Rap/Sung Collaboration tonight.
Fans know that last year was full of drama for this star-studded squad. Beyonce's culturally-charged visual album, Lemonade, took some very obvious digs at her husband and the social issues that surround them on the daily. Whatever problems they were facing, though, seemed to have been solved. With Rumi and Sir Carter, the cutest and probably most Instagram famous twins, now in the picture and Blue all grown up — their family is only getting bigger and better. And Beyoncé won't back down from absolutely slaying the game, and personal style.
Although it's JAY-Z who's nominated for a whopping eight Grammys this year, including Album of the Year and Song of the Year, Beyoncé is the one winning in the style department. If you take a look back at her previous looks for the awards show, you'll realize this is nothing new. The artist, who herself, has won 20 Grammys to date, and is nominated for one this year for appearing on "Family Feud," has been slaying this red carpet since first stepping onto it as part of Destiny's Child in 2000, always bringing the perfect balance of sexy and refined that causes jaws to drop. The woman can literally do no wrong sartorially.
Last year, Beyoncé was nominated for nine Grammys for Lemonade and various songs on it and only walked away with two, which many, including myself, thought was absolutely ridiculous. (She should have won at least half of the awards she was nominated for, IMHO!) Regardless, the red glittery Peter Dundas dress she wore was a total shopper. It featured a plunging neckline, small train, and slightly empire waist, which was the perfect cut seeing as she was pregnant with her twins Rumi and Sir at the time.
In 2016, Bey defied traditional dressing norms and wore a white Inbal Dror wedding gown while presenting Record of the Year. Featuring a crisp white collar and see-through skirt, it certainly wasn't your average wedding gown, but defied the Grammys classic gown dress code all the same. She looked at once ethereal and sleek and proved once again that she can wear literally anything and make it look amazing.
This year is no different. Beyoncé worked the Grammys weekend-long red carpet, showing off her signature style with a mix of chic black looks:
Tonight, on the Grammys runway, Bey looked absolutely stunning in another all-black look. She's sporting an outfit with a bit of a cold-shoulder style, a middle panel skirt with two major slits, and a hat that could honestly be straight out of "Formation." Her accessories are larger than life, just like the star herself, and her vibe is beyond strong.
According to Vogue, her stylist Nicholas Jebhran sought inspiration from the Black Panther movement of the '60s, in an effort to convey a "spirit of vitality." Bey is no stranger to this reference, which she made during her historic Super Bowl 50 performance and again with the stylistic inclinations of her album, Lemonade.
In the "Family Feud" video, Beyonce wears a clerical headdress, that's supposed to suggest her giving shame to JAY-Z and his mistakes. In a second take, she's in her usual goddess-like attire with large gold earrings and a white drape that symbolize her absolute holiness.
The connection between the two looks seems somewhat predictable, considering JAY-Z is hoping to pick up some awards for the track off of 4:44 tonight. But, whether or not he wins, we'll be channeling Beyoncé's couture for days after the Grammys. She's the real winner, if we're being honest.