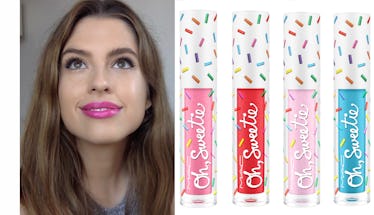 I Tried All Of MAC's New Dessert-Flavored Lip Glosses & My Lips Became An Actual Snack
Sophie Wirt/MAC
A new MAC collection is always cause for celebration, and the brand's latest drop will have you feeling particularly sweet. This MAC Oh Sweetie Lip Gloss review might trigger your sugar addiction. The brand is known for its collaborations with beauty and fashion big-timers (recents include Padma Lakshmi, Patrick Starr, and Sia), so it's fitting that the brand tapped fashion and beauty maven, Caro Daur, to join forces for its latest collection. The delish drop — a 15-piece lip product line — pays homage to everyone's favorite food group: dessert! Each shade is named after a different sweet treat and smells just like the goodie to boot.
I couldn't help but let out an elated squeal upon receiving these lip colors. My boyfriend, on the other hand, had somewhat of a different reaction: "Are those for kids?," he asked with the seriousness in the world. In case you were wondering, the answer is no — these lip products are for grown women, men, and basically anyone who isn't in primary school. Though, to my bf's credit, I do understand where he's coming from; after all, the shade range on these babies rivals that of a Crayola assortment's.
Unlike Crayons, though, these lippies exude various levels of iridescence. (Side note: is anyone else noticing how iridescent makeup is having a major moment lately?). In my opinion, the subtle sheen elevates these shades from those chunky glitter lip glosses I wore as a kid. Nevertheless, these lip colors do smell like a candy store — which is, frankly, a feature I kinda wish all big girl products had.
For instance, Raspberry Pavlova (above) tastes and smells like raspberries. (For the record, I've never had a Pavlova, but I definitely want to try one after slicking on this lip color.) This hot pink hue made me feel instantly chipper.
This tangerine hue is, surprisingly, called Banana Muffins. If you're a fan of banana flavors and love to rock an orange lip, this shade is a must. It has an almost-metallic finish which differentiates it from every other orange lipstick I own.
This aptly-named Caramel shade smells so much like actual caramel, I'd probably smear it on my apples (not really; don't try this at home, kiddos). This was probably my absolute favorite shade of the bunch, simply because I was surprised by how flattering it was. I also love how this shade veers more metallic than iridescent. Plus, the color payoff is immediately opaque without having to layer or deal with patchiness.
I just had to try this guacamole-green hue, Key Lime Trifle, which smells like its namesake dessert (not guac, sadly). I was a fan of the zingy citrus scent, but I'm not sure green is my favorite lip color — but hey, more power to you if you can rock it. The formula itself is just as creamy and dreamy as the rest of the bunch.
Speaking of formula, these lip colors are somewhat of an un-categorizable hybrid. (If you've tried the MAC "lipglasses," you'll get the picture.) They're certainly not glosses, and they're a far cry from drying liquid lipsticks. Rather, they boast a creamy, mousse-like consistency that feels smooth and leaves lips supple. The colors are opaque, though I did find some of the unconventional shades took a few swipes to get 'em to my desired level of intensity. The formula is long-lasting in the sense that I had to scrub my lips with makeup remover between tries — but it's not entirely transfer proof (as evidenced by lip prints I left on my water glasses and on my boyfriend's cheeks). That said, I wouldn't call the formula as smudgy or smear-prone. Plus, a little bit of contact transfer is hardly a price to pay for vibrant, long-wearing color that won't dry out your lips.
The MAC Oh Sweetie Collection launches June 11 on the MAC Cosmetics site, and in MAC stores nationwide starting June 14. I can definitely see a myriad of summer-related uses for these shades (Festivals! Pride Month!). Check out the entire flavor (er, shade) selection on the brand's website. Happy tasting!