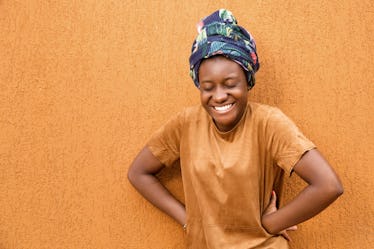 These Viral 2018 Health Trends Were Honestly Kind Of Sus, So Thank You, Next
"Have you tried celery juice yet?" a friend asked me the other day (I hadn't). She then proceeded to tell me that, if you drink celery juice on an empty stomach, it can help your body "fully detox" — whatever the heck that's supposed to mean. Look, unless I can chase that glass of celery juice with like, five shots of ranch dressing, that trend is not for me. This is just one of many viral 2018 health trends that made my eyes roll so far back into my head, I almost lost my vision. Let's explore some of the others, shall we?
First of all, 2018 was a trip, to say the least. Aside from our unsavory president, the baffling consumption of Tide Pods, and an apparent attempt by romaine lettuce to wipe out the human population, there were a slew of wellness trends that were mildly questionable, and honestly, pretty sus.
According to Crystal Savoy, MS, RD, LDN, a non-diet dietitian at Real Life Women's Health, some people have grown "so afraid of food" that they now think the more out-there health trends (remember raw water? #TBT) are actually worth trying. "[Some people] think these 'wellness trends' are good for us and prolong health, when they actually do the complete opposite," she tells Elite Daily in an email.
Having said that, don't feel bad if you got caught up in any of these trends yourself in 2018 — we all fall for 'em sometimes. But knowledge is power, and I, for one, think it's time to declare a collective "Thank U, Next" and leave these five viral health trends in 2018, where they belong.