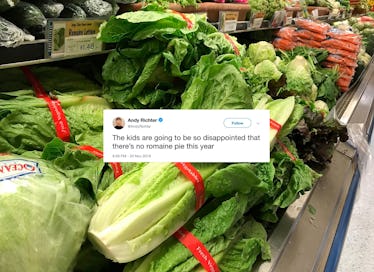 Romaine Lettuce Has Been Linked To E. Coli Again, But Twitter Cannot Romaine Calm
Attention last-minute shoppers and Thanksgiving hosts, the Centers for Disease Control and Prevention (CDC) has ever so kindly added to its list of do-not-eat items, and if you were planning to serve salad at this year's annual feast, do yourself, and your guests, a favor and remove romaine from the menu. The CDC issued a warning on Tuesday, Nov. 20 that romaine has been linked to E. Coli, — just in time for the holidays — and naturally, social media is reeling. Obviously E. Coli is a huge concern, but the tweets about romaine lettuce floating around Twitter have me ROFL. Seriously, everyone romaine calm, put down the head of green, and leaf it alone. Spinach has more nutrients, anyway.
The CDC's announcement comes a mere three days before the biggest foodie holiday there is, so how's that for irony? The official statement came with a big, fat orange exclamation point, symbolizing the severity of the recall, so you know the CDC's not playing around here. Sheesh, first we had to worry about raw ground turkey being linked to salmonella, now bacteria-infested lettuce? I'm just hoping the CDC doesn't have anything to say against canned cranberry sauce in the next 24 hours.
CDC advisories are kind of like notes sent home from a teacher: terrifying. And this one is no exception: "The CDC is advising that U.S. consumers not eat any romaine lettuce, and retailers and restaurants not serve or sell any, until we learn more about the outbreak," the official statement begins in bold lettering. An investigation into the matter is ongoing, and as per the health agency's press release, you and I will be kept up-to-date on the matter.
According to the investigation details made public by the CDC, as of Nov. 20, 2018, a total of 32 people have been infected with E. Coli as a result of eating romaine lettuce. Reports of illness started coming in between Oct. 8, 2018 and Halloween, and out of the 26 cases that released their information, 13 people have been hospitalized for treatment.
So what does this mean for your holiday feast? Well, maybe nothing, maybe everything. It ultimately depends on whether or not salad is a staple dish being served. According to Michael Droke, a partner at the international law firm Dorsey & Whitney specializing in agriculture and cooperative law, this sort of major recall just days before a holiday can cause a lot of commotion that may not only affect this one leafy green, but possibly other edible greenery as well, like spinach.
"Retailers will be pulling romaine and possibly all other lettuce/leafy greens from their shelves (a process called quarantining) until the source is found," he tells Elite Daily. Be still, my rabbit food-eating heart. No spinach? That's it, cancel Thanksgiving.
OK, I'm clearly being dramatic, as romaine lettuce is hardly the end-all, be-all of Turkey Day dinner. But the hilarious tweets circulating about romaine lettuce in response to the news will have you leafing it up, too.
This is me with or without a romaine lettuce recall.
Whatever works, pal.
If it's infested with E. Coli, you'll actually be sitting with it, sir.
It's bad news.
I guess we'll all just *have* to settle for pumpkin.
Well, I wouldn't go that far.
This is just too punny.
DON'T EAT IT.
R.I.P. that gorgeous bowl of Caesar salad.
Well that sounds counterproductive.
That's gonna be a no from me, dawg.
Said no one ever.
Pretty sure this is a general consensus.
Seriously.
Having déjà vu? It's not just your imagination, friend. Per CNN, romaine lettuce was linked to E. Coli back in December 2017, too, which affected both the United States and Canada. FDA Commissioner Dr. Scott Gottlieb told the news outlet that the strain in 2017 "is the same as the strain in this fall 2018 outbreak," and at this time, it is assumed to be "associated with end of season harvest in California." In a statement from the FDA, Gottlieb also said that although the investigation is still new, the current advisory comes as an early warning to ensure consumers stay healthy around the holidays. He said,
The quick and aggressive steps we're taking today are aimed at making sure we get ahead of this emerging outbreak, to reduce risk to consumers, and to help people protect themselves and their families from this foodborne illness outbreak. This is especially important ahead of the Thanksgiving holiday, when people will be sitting down for family meals...
This isn't the first romaine outbreak we have seen in the recent past, and we will continue to take steps to identify the root causes of these events and take action to prevent future outbreaks.
So even though there's still a ton of missing information as far as where the outbreaks are stemming from exactly, and whether or not all green veggies are affected, the only surefire way you can be sure you won't catch a bout of E. Coli is to stay away from romaine lettuce at all costs — at least until we get the all-clear from the CDC that we no longer have to leaf these leaves alone.
However, if for some reason you happen to eat some romaine, or have eaten a salad with the stuff in the past few days, be on the lookout for symptoms such as stomach cramps, diarrhea, vomiting, and fever. Should you experience any of those, call your doctor ASAP.