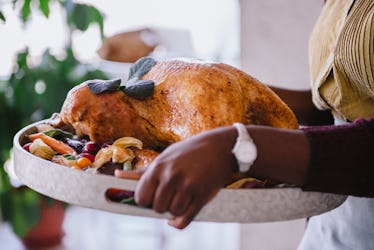 Apparently There's A Salmonella Outbreak In Turkey Products, So That's Great Timing
If you picture the most idyllic Thanksgiving feast, you probably imagine an enormous table filled with plates of creamy mashed potatoes, delectable green beans, and a number of sweet pies. But the star of the holiday is typically a crisp, roast turkey, right? Well, if carving the bird is a tradition in your family, be extra careful this year, because there's currently a salmonella outbreak in turkey products, according to NBC News. The whole situation is kind of a mess given the timing, but luckily, there are precautions you can take so that turkey can still be the star of your Thanksgiving spread.
"As of November 5, 2018, 164 people infected with the outbreak strain of Salmonella Reading have been reported from 35 states," the Centers for Disease Control and Prevention (CDC) reports. According to its investigation notice of the outbreak, the health agency has yet to find a single supplier responsible for the spread, and since the salmonella strain has been found in both living turkeys and in raw turkey meat, the CDC suspects that the outbreak might be widespread among the turkey production industry in general. Great.
The CDC explained that 47 percent of those who've fallen ill from this outbreak have had to be hospitalized, and so far, one death linked to the outbreak has been reported.
While you shouldn't freak out and nix turkey from your Thanksgiving lineup altogether, clearly there can be serious consequences to contracting salmonella, so it doesn't hurt to be extra careful about how you handle the meat before it's cooked this holiday season.
For instance, you might think that washing off your raw turkey is a good way to clean it and avoid salmonella, but according to the USDA Food Safety and Inspection Service, this could actually cause more problems, as the "bacteria in raw meat and poultry juices can be spread to other foods, utensils, and surfaces" that way. Overall, the less you handle raw meat with your bare hands, the better, as per the CDC. The health agency recommends thoroughly washing your hands and all utensils you use to handle the raw meat as you're getting ready to cook it.
Plus, as is the case with most types of meat, the more well-done you cook your turkey, the more bacteria you'll kill off, and the safer the meat will be to eat. Use a meat thermometer to make sure that your bird reaches an internal temperature of 165 degrees Fahrenheit, says the CDC (and the same goes for your leftovers, the health agency explains).
If you're still anxious about the possibility of a salmonella infection, it might put your mind at ease to know what signs to look out for. Diarrhea, fever, and stomach cramps are three of the main salmonella symptoms, according to the FDA. These signs usually "start 12 hours to 3 days after a person accidentally eats Salmonella," the agency explains, and "most people get better in 4 to 7 days without needing to see a doctor."
Oh, and one more thing — if you have a pet that loves raw turkey food, you might want to watch out for them right now, too, because some pet foods containing the meat have been found to contain salmonella, according to the CDC's investigation notice of the outbreak. So, for the time being, at least, you might want to switch to dry food or another type of meat. It's also worth noting, though, that the CDC, in general, does not recommend feeding your pets a raw food diet.
Bottom line: With a little bit of extra caution, you should be all set to feast away on a perfectly browned turkey on Nov. 22. If you're really worried, you could even try deep frying the bird for extra crispiness and guaranteed bacteria elimination.