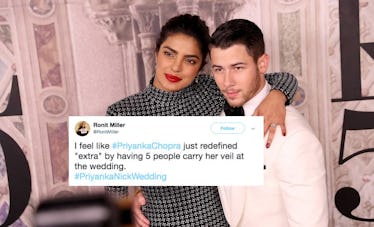 Literally No One Can Get Over How Beautiful Priyanka Chopra's Wedding Dress Is
ROB KIM/GETTY IMAGES ENTERTAINMENT/GETTY IMAGES
Hi, me again, I really want to keep talking about Priyanka and Nick's wedding if that's OK with you. I could go on and on about my thoughts regarding their big day, and fortunately, a ton of Twitter users are in the same boat, as illustrated by the abundance of tweets about Priyanka Chopra's wedding dress circulating the site. There are way too many tweets about the celeb couple's nuptials to count, but practically all of them are praising how fab Chopra looks in her wedding day attire.
Keep in mind, I'm almost surprised how much positive feedback Chopra is getting for her look — not because she isn't stunning, of course, but because so many of the people tweeting, myself included, all spent our tween years picturing ourselves getting married to Nick Jonas. How nice of us to be supportive and not salty! TBH, I'm still a little bitter (I went to 13 Jonas Brothers concerts! Where is my lifelong partner?), but Chopra made such an incredibly beautiful bride, I can't help but gush about their big day. Maybe I wasn't meant to be Mrs. Jonas, but Chopra certainly was, and she really started this next chapter of her life in style.
ICYMI, Chopra and Jonas had two different ceremonies to make their love official. One was an incredibly Christian ceremony, officiated by Jonas's father, and the second one was a mind-blowingly beautiful traditional Hindu wedding ceremony — and of course, both Konas and Chopra stunned at both events. Prior to the big day, Chopra didn't give us many hints about what she'd be wearing, beyond mentioning at the God's Love We Deliver, Golden Heart Awards that it was "going to be cute and comfortable." Later, she revealed in an interview that Ralph Lauren would be designing a custom gown for her Christian ceremony.
And just as she said, we now know that, for her Western ceremony, Chopra opted for that custom Ralph Lauren gown. It was sheer, it was long sleeved, it was hand-embroidered, and it looked like it walked straight out of your dreams when you were a little girl. Pearl buttons and a scalloped collar finished off the stunning look, but most dramatic of all was the 75-foot tulle veil that trailed behind Chopra as she walked down the aisle. It was so long, in fact, that Chopra needed the help of five people to carry it.
Naturally, this fairytale of a dress elicited a slew of tweets that expressed the same feeling of OMFG that you're probably experiencing right now:
For her Hindu ceremony, Chopra wore an equally stunning but radically different dress. By Indian designer Sabyasachi, the traditional lehenga was crafted from hand-cut organza flowers and Siam-red crystals. According to Harper's Bazaar, it took "110 embroiderers in Calcutta and 3,720 hours to create this insanely intricate look." Talk about lavish! There's no doubt that this wedding will go down in history as one of the most stylish of all time.