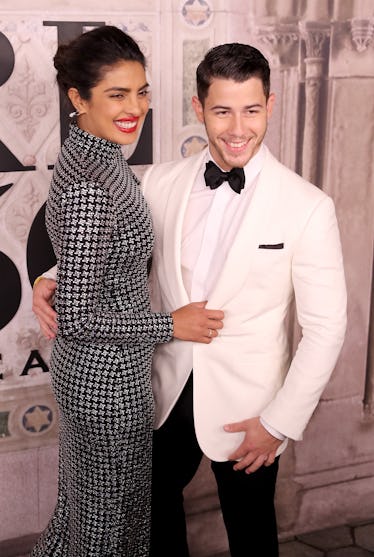 Priyanka Chopra & Nick Jonas' Pre-Wedding Festivities Are A Family Affair You Have To See
Rob Kim/Getty Images Entertainment/Getty Images
Smell that? It smells like a celebrity wedding coming straight at us. Nick Jonas and fiancée Priyanka Chopra have been running steadily toward the aisle ever since they met. After two months of dating, Jonas popped the question in July 2018. Now, reports are claiming the two celebrities are planning on being hitched before the new year. The photo of Priyanka Chopra and Nick Jonas pre-wedding festivities certainly look like they're preparing for the big day. Plus, all of their family members, including big brother Joe and his fiancée Sophie Turner, are hanging out in Mumbai. It doesn't take an entertainment writer to put two and two together.
While it's true there's no official date, plenty of sources have reported that Jonas and Chopra couldn't wait to dive into married life. In fact, a source told Entertainment Tonight, "Since day one, Priyanka and Nick have clicked and have never taken their relationship slow." The source continued,
The couple got engaged two months after dating, they've met each other's families and had a bridal shower and bachelorette party in a very short period of time... For Priyanka and Nick, they know that they love one another and are going to be married, so they don't see the appeal in waiting too long.
Based on Jonas' family photo, everyone in their group is on board. In the picture, you can clearly see Nick and Priyanka beaming front and center, along with Joe and Sophie in the back. Seven other friends or family members are all bundled together like one happy crew. Nick posted the photo on his Instagram story and captioned it, "Mumbai nights."
Meanwhile, over on Nick's brother's Instagram, older brother Joe was busy celebrating his brother's relationship in a different way. Joe posted a pic of himself lounging while drinking out of a coconut. He captioned his post with his location: Juhu, Mumbai.
Prior to the Instagram story pictures, both Nick and Priyanka shared the same family dinner photo for Thanksgiving. In it, Nick is sitting at the head of the table with his wife-to-be beaming beside him. The couple headed to Dehli, India to spend the holiday with family, and boy were there a lot of them. Nick captioned the picture, "What a beautiful Thanksgiving. Hope you all had the best day with your loved ones," and Chopra wrote, "Happy thanksgiving.. family.. forever.."
While nothing has been confirmed, it sure seems like now would be a good time to have a wedding. For one thing, everybody is there. Plus, a source previously told US Weekly the wedding is happening in December. According to another insider, it's going to have a mix of both Indian and American wedding traditions.
"They really want to blend wedding traditions from both of their cultures that are important to them," the source said. "Priyanka is having a really good time planning the wedding because it's a mix of Indian and American styles and customs, which she knows so much about."
Sources claim that the couple's Indian wedding ceremony will go down on Sunday, Dec. 2 followed by the Christian ceremony on Dec. 3.
Listen, I am 100 percent here for a December wedding and it looks like it's coming right around the corner! I can't wait to see all the pictures!